Founder/Admin
Staff Member
CFO (Chief Fun Officer)
Joined

Feb 13, 2016
Messages

22,772
Likes

35,923
Location
This is a review and detailed measurements of the Musiland MU2S smartphone USB-C DAC and headphone amplifier dongle. It is on kind loan from a member overseas. It costs US $45.
Yes, Musiland seems to make countless variety of these dongles. This one looks nothing like MU2 (without S):
There are no controls on this unlike the Plus and regular versions of the MU2 series. And the plasticy unit is not going to impress any of your friends.
Then again it may just blend into the look of your headphone cables.
Audio Measurements
I tested the unit using Roon to stream content to it on Windows 10. Here is our usual dashboard:
Maximum output is 1.7 volts which is a good step above many that cap out at 1.0 volt. This will help in powering higher impedance headphones.
Distortion is dominated by the second harmonic but at -110 dB, it is benign. What sets SINAD (signal over distortion and noise) then is noise.
Dynamic range is not bad though for the desired application:
Jitter graph shows good bit of unwanted spikes but should not be audible:
Most important measurement is how much power we get relative to distortion and noise. Let's start by testing at 300 ohm to simulate high impedance headphones:
Noise is somewhat elevated relative to its more expensive brothers but you get a bit more power:
Testing at 33 ohm load shows almost identical performance:
The family resemblance is definitely there. This is decent amount of power for a dongle: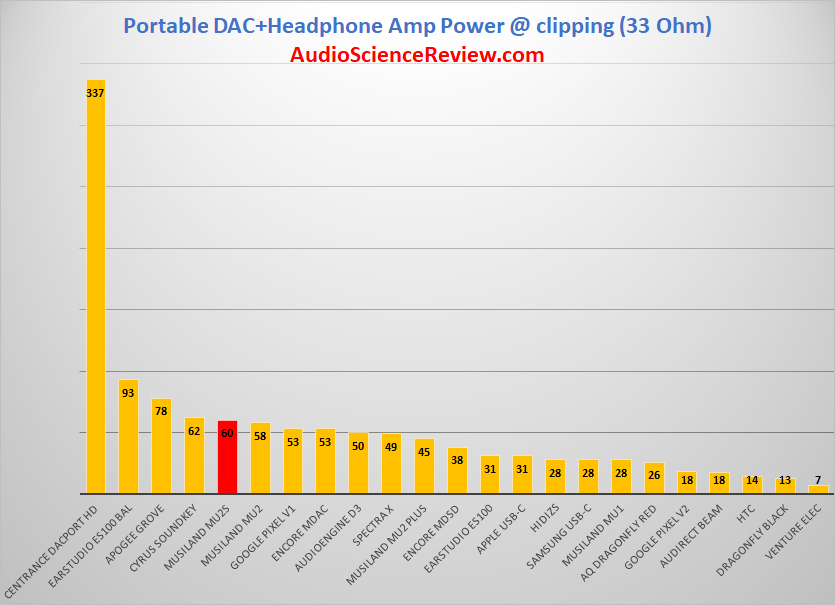 Since output power is very similar to other ones in the series from Musiland, I did not try to perform a listening test. Read about it here:
https://www.audiosciencereview.com/forum/index.php?threads/musiland-mu2-hp‐amp-usb-c-phone-dongle-review.10038/
Conclusions
Stepping up from $9 dongles, you definitely get more power in the Musiland MU2S so seems like a nice upgrade. As with the rest of the line from Musiland, I can recommend this dongle.
--------
As always, questions, comments, corrections, etc. are welcome.
Quality of sushi improves during cooler weather (fish build up more fatty tissue). Alas, the price does not go down so I appreciate some
donation
to fix my cravings using:
https://www.audiosciencereview.com/forum/index.php?threads/how-to-support-audio-science-review.8150/