Founder/Admin
Staff Member
CFO (Chief Fun Officer)
Joined

Feb 13, 2016
Messages

23,611
Likes

41,269
Location
This is a brief write-up and detailed measurements of the Pioneer Elite SC-61 Home Theater Audio & Video Receiver (AVR). It is my own unit which I think I purchased 4 to 5 years ago. It has been running non-stop for 12 to 14 hours almost every day since as it powers our living room TV driving a pair of Revel bookshelf speakers. Prior to it I had an Onkyo AVR in there but its class AB amplifier ran so hot it was cooking the entire, large enclosed cabinet. I had designed the cabinet with active cooling but I thought it is best to not generate heat than do so and then try to remove it. The class-D amplifier in the Elite SC-61 fit the bill and had a dramatic impact on how hot it, and the rest of the gear ran in that cabinet.
From the outside you could not tell the difference between the SC-61 and today's AVRs showing that there is no design innovation going on there:
Before anyone runs off thinking we are primitive TV-holics given how long we leave the thing on, I should note that we are very much intellectuals. We read nothing but classic books include Shakespeer and such. TV is really there to entertain the dogs and the pink panthers as it is always on the Animal Planet channel.
With that important note out of the way let's see how the SC-61 performs compared to the unit that replaced it, the
Pioneer Elite VSX-LX504
.
Oh wait, I forgot to mention why we replaced it. As I reported elsewhere, the unit started to flash E22 error message and would refuse to produce audio when first turned on. After a few minutes and a number of pops and glitches it would come to life and stay working. I have read this keeps getting worse and eventually the unit will not produce any sound. The problem is a faulty TI DSP board. Pioneer (and its new owner Onkyo) were sending out replacement boards for a while but then ran out and now offer replacement Pioneer units. I was offered the LX504 and a lessor unit and a much higher-end one. Being cheap as heck, I picked the VSX-LX504.
The point being that you don't want to buy this unit used no matter what the measurements unless you get it for nothing and can deal with the eventual failure.
AVR DAC Measurements
The SC-61 would not sync reliably with my computer monitor so it was a pain to get into the setup options -- a common problem among "early" HDMI implementations. Fortunately the front-panel is quite informative and I eventually managed to reset all the parameters I had when it was in use. I settled on testing with Toslink into the unit, and using front left and right pre-outs as the outputs. I selected pure direct mode to remove processing. Here is our dashboard at 0 dB volume:
Seeing the level below the nominal 2 volt, I experimented with getting it up to 2 volt by dialing up the volume to +2 dB:
Strange how one channel got impacted a bit but noh the other. Regardless, the results were good enough that I used this setting for the rest of the DAC tests. With much lowered expectations when it comes to AVRs, I was relieved by this SINAD (signal over noise and distortion) score:
I also took a quick shot at creating the same list but just for AVRs. Hopefully I didn't miss any:
The recent tests are with the amplifier off. It is possible I tested the
VSX-LX303
while the amp was on. Don't remember now and the unit has been returned to Amazon.
Dynamic range at 100 dB meets at least the requirements for 16 bit/CD audio:
It is bested by the VSX-LX504 though. The two however run neck and neck in the noise+intermodulation test:
in a reversal of fortunes, Jitter performance was actually better on the SC-61:
The jitter sidebands are very clearly there as we can see from the symmetrical nature of them around our 12 kHz tone. They seem to be at the 250 Hz interval of the square wave in J-test signal used there. This means the jitter that you get is dependent on the PCM/music data which is not good. Fortunately levels are very low and are easily masked by the main music signal.
Linearity is a bit worse than VSX-LX504:
Amplifier Audio Measurements
I selected an analog input and the AVR nicely switched to "Analog Direct" mode which I assume it means it is not digitizing the input. This is our dashboard:
This is a decent showing, above our geometric mean (fancy average) of 78 dB SINAD:
Frequency response is not very wide though:
So maybe some processing is still involved.
Signal to noise ratio at full power is 100 dB: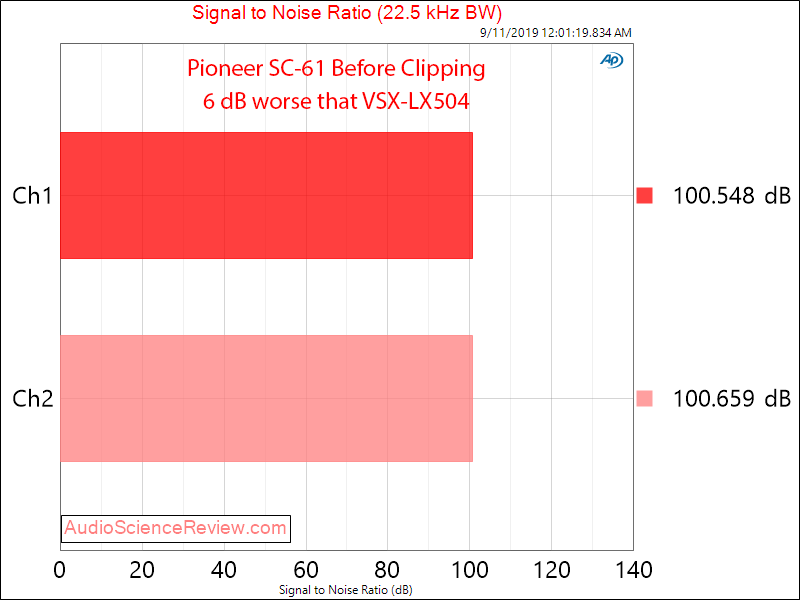 The all important test is power versus noise and distortion. Here it is with 4 ohm load:
I am very surprised as the nearly identical graph for the SC-61 and VSX-LX504. They have identical output power too. But of course the VSX-LX504 can only produce high power levels for 30 seconds or so after which it refuses to go higher (dashed teal line). Not the case with SC-61 which could do so forever.
Similar story, pun intended, with 8 ohm load:
I should say that by this time in the test, the SC-61 was almost room temperature. It is so much more efficient.
Peak power was short of the VSX-LX504:
Conclusions
There is uncanny similarity between the older SC-61 and newer VSX-LX504. Perhaps there is an internal standard at Pioneer with respect to power and performance? And or old design re-used?
Sad to see the VSX-LX504 series pulling back power under stress. Otherwise I would say that it is a fine successor to the SC-61 on performance front.
Despite all the work that went into this testing, I am hoping you see the usefulness of filling in our graphs and data points so that we can better connect the dots. I am going to retire the SC-61 into the attic. What for, I don't know.
------------
As always, questions, comments, recommendations, etc. are welcome.
My lab is on the second floor and dragging these heavy AVRs there is taking its toll on my back. I am thinking about getting an elevator between the floor. They cost tens of thousands of dollars so please
donate generously
using:
https://www.audiosciencereview.com/forum/index.php?threads/how-to-support-audio-science-review.8150/
Last edited: