Founder/Admin
Staff Member
CFO (Chief Fun Officer)
Joined

Feb 13, 2016
Messages

26,029
Likes

58,309
Location
This is a very brief measurement of Klyne 7px 3.5 Phono pre-amp. It is designed locally in washington state where I live and was brought to me for measurement at our local audiophile society meeting. It originally retailed for $2,500 and I think the owner said he bought it for $1,800. So not cheap.
Alas, I did not save much of the measurements other than one spectrum of 1 kHz. Before that, the unit looks pretty nice inside:
The unit came out in early 1990s so not available anymore (company doesn't seem to be building phono pre-amps anymore).
Measurements
As noted, I did not save the rest of the measurements but the 1 kHz distortion and noise tells the story anyway:
(please ignore the cursors). As we see, the noise from mains is highly dominant with the primary spike at 60 Hz just 40 dB down from our main tone. That causes a spray of harmonics that travels well into and past our main tone of 1 kHz. I think SINAD (usable signal above power of noise+distortion) was in the 35 dB range!
Here is how our much, much cheaper phono-preamps did in my review of
u-turn Pluto and ART DJPRE II Phono Preamps
: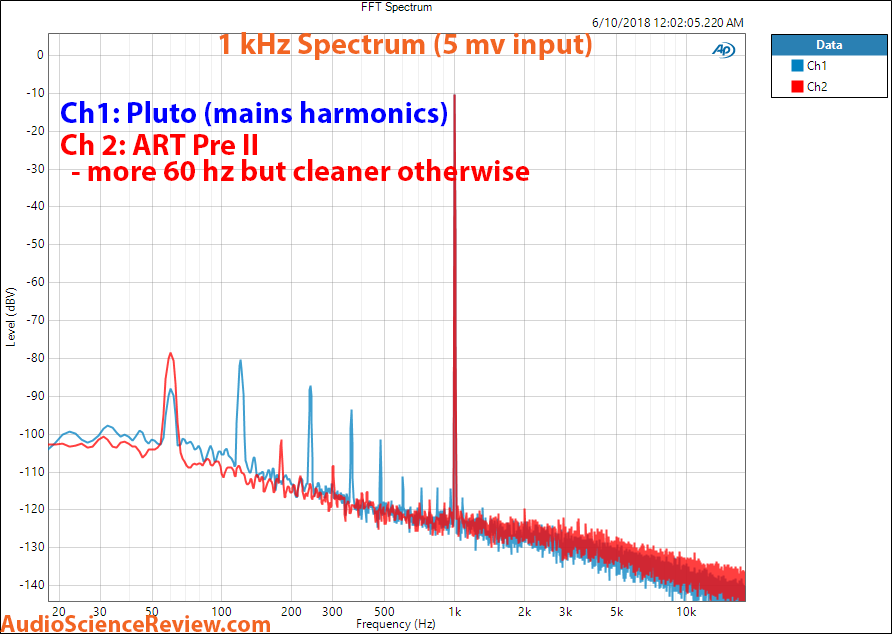 Shocking difference, isn't it? The mains hum is now at -80 dB or a whopping 40 dB better. And importantly, it dies down by the time we get to our 1 kHz tone and we are left with just benign noise.
The owner is sending the unit back to its designer to be refurbished along with my measurements.
Will be interesting to see what will be addressed.
On that day, I measured other phono pre-amps and with the exception of one DIY type unit running on two 9 volt batteries, the rest all fell in the same range as the unit under review here with SINADs in 35 dB range. I have to believe that some of what is heard with LP playback must include the noise and distortion from these amplifiers.
Conclusions
Needless to say, the Klyne 7px 3.5 Phono pre-amp is far from a recommended device. I suspect little to no measurements were performed in its design. It is easily outperformed by cheaper units that cost as much as an LP or two (admittedly, the Klyne has much higher gain and compatibility with moving coil cartridges).
----
As always, questions, comments, corrections, etc. are all welcome.
----
If you like this review,
please consider donating funds
for these types of hardware purchases using Patreon (
https://www.patreon.com/audiosciencereview
), or upgrading your membership here though Paypal (
https://audiosciencereview.com/foru...eview-and-measurements.2164/page-3#post-59054
).