Founder/Admin
Staff Member
CFO (Chief Fun Officer)
Joined

Feb 13, 2016
Messages

42,714
Likes

215,357
Location
This is a review and detailed measurements of the Ladder Schumann "FPGA" (R2R) balanced DAC. It was sent to me by
Shenzhenaudio
and costs US $1,399.
The box is solid and has fair bit of heft to it, likely due to power supply transformer. The interface is pretty simple with the exception of the "Mode" button which I could not figure out. There is no manual supplied in my sample (which came back in July), nor could I find one online. It seems to select one of a few oversampling modes (2X/4X/8X) but I could not figure out how to get it to do that (seems to do something in setup). There is a dedicated button and turns off oversampling and filtering.
The main notable thing on the back panel is inclusion of XLR balanced out which you don't always see on R2R DACs:
Ladder Schumann DAC Measurements
Let's start with our dashboard using USB in/XLR out:
Distortion spikes match the noise floor of 16-bit content. By traditional DAC standards, that is rather poor but by R2R standards, it is not bad. Performance suffers with RCA due to more power supply noise:
I was about to stop the review here thinking the rest would be along the same line. But I am glad I did not as the noise floor is extremely low:
Clearly good attention was paid to clean circuit design.
IMD graph shows the variable distortion as one would expect in such architecture:
Then again, when levels are low, distortion-floor is rather low:
There is jitter but as noted, is below audible levels:
Linearity naturally suffers at very low levels but otherwise is competent:
Here is the DAC filter response in the two modes I could figure out to activate: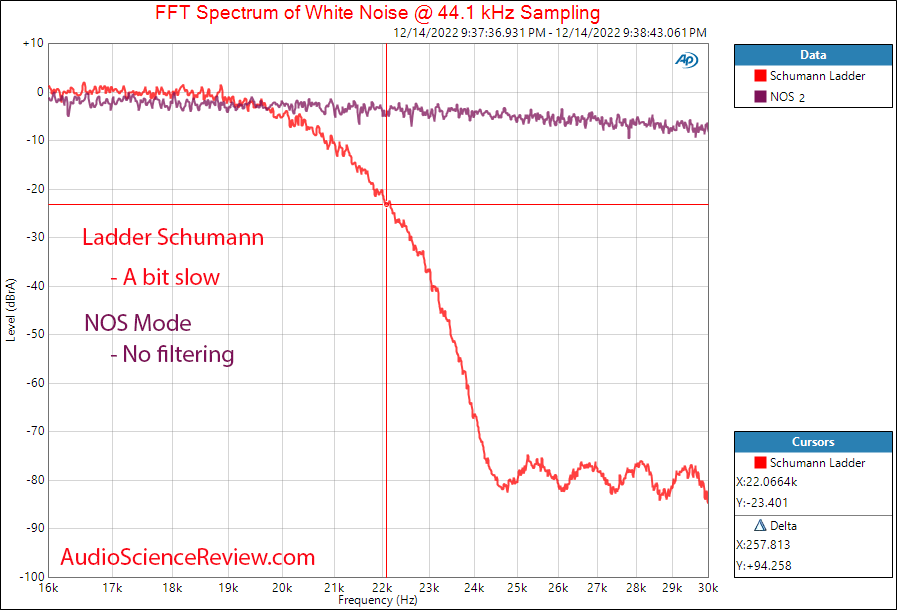 And impact on frequency response:
So there is no mode with flat response. People with good high frequency hearing will likely notice lack of that in highest frequencies and may confuse that with better sound.
I was pleased to see that there is little frequency dependence in our wideband noise+distortion test:
Conclusions
It seems that frequently when a company decided to make an audio product with a new architecture, they use that as an excuse to butcher the response across the board. They talk about "low feedback" but then give us high levels of noise for example. I was pleased to see such was not the case with Ladder's Schumman DAC. The excellent dynamic range indicates that there is good engineering there, but is saddled with limitations of inexact, R2R DAC architecture. At least they are doing their best to deliver on what audiophiles ask for.
I see no benefit to R2R DACs so I can't recommend the Ladder Schumann DAC. But if you have the itch to get one, this makes a decent offering.
-----------
As always, questions, comments, recommendations, etc. are welcome.
Any
donations
are much appreciated using
:
https://www.audiosciencereview.com/forum/index.php?threads/how-to-support-audio-science-review.8150/