Founder/Admin
Staff Member
CFO (Chief Fun Officer)
Joined

Feb 13, 2016
Messages

39,427
Likes

179,306
Location
This is a review and detailed measurements of the KEF T101 slim/wall mountable home theater speaker. It is on kind loan from a member and costs US $650 for a pair.
This is a very solidly built thin speaker:
It is clear a lot of engineering has gone into it. KEF developed a very shallow conventional midrange for this 2-way speaker in order to get the case so thin. The series was introduced back in 2011.
Measurements that you are about to see were performed using the
Klippel Near-field Scanner (NFS)
. This is a robotic measurement system that analyzes the speaker all around and is able (using advanced mathematics and dual scan) to subtract room reflections (so where I measure it doesn't matter). It also measures the speaker at close distance ("near-field") which sharply reduces the impact of room noise.
Both of these factors enable testing in ordinary rooms yet results that can be more accurate than an anechoic chamber.
In a nutshell, the measurements show the actual sound coming out of the speaker independent of the room.
Measurements are compliant with latest speaker research into what can predict the speaker preference and is standardized in CEA/CTA-2034 ANSI specifications. Likewise listening tests are performed per research that shows mono listening is much more revealing of differences between speakers than stereo or multichannel.
Reference axis was the center of the tweeter (aligned by eye). The grill was left in place (not sure it is removable anyway). Measurement room was at 10 degrees C which may lower bass output a bit. Accuracy is better than 1% for most of the audio spectrum degrading to 2% above 4 kHz.
Note
: KEF makes a special stand for this speaker that modifies its frequency response somehow. I did not have that and tested the unit as is.
KEF T101 Measurements
Acoustic measurements can be grouped in a way that can be perceptually analyzed to determine how good a speaker is and how it can be used in a room. This so called spinorama shows us just about everything we need to know about the speaker with respect to tonality and some flaws:
Wow, I don't remember seeing such an uneven frequency response in all the testing I have done. We have three broad areas of error, two of which are boost and one is a dip. Directivity is good for some of this range but gets messed up during the crossover frequency. Speaking of which, here is the near-field response of each driver:
Unless I am aligning the two curves wrong, it seems that the tweeter is crossed at too high a frequency (or vice versa) causing a droop in the intersection which is what we saw in the spin graph (between 1 and 2 kHz). There is also resonance or lack of baffle compensation for the midrange driver which could be responsible for peaking we saw centered around 880 Hz.
Early reflections are a mess as well as one would predict:
And as a result, the predicted in-room response:
We can see the crossover directivity error clearly in our horizontal beamwidth and directivity measurements:
Vertical response gets much worse if you go below the tweeter axis so try to point it toward your ear:
Power handling is quite good for such a shallow and small speaker, albeit aided by lack of bass:
As usual, our impedance and phase measurement shows low frequency resonances:
Impedance of 3.2 ohm is quite low but you probably won't be pushing this speaker too loud so may be OK.
And for fans of timing analysis, here are the three of them: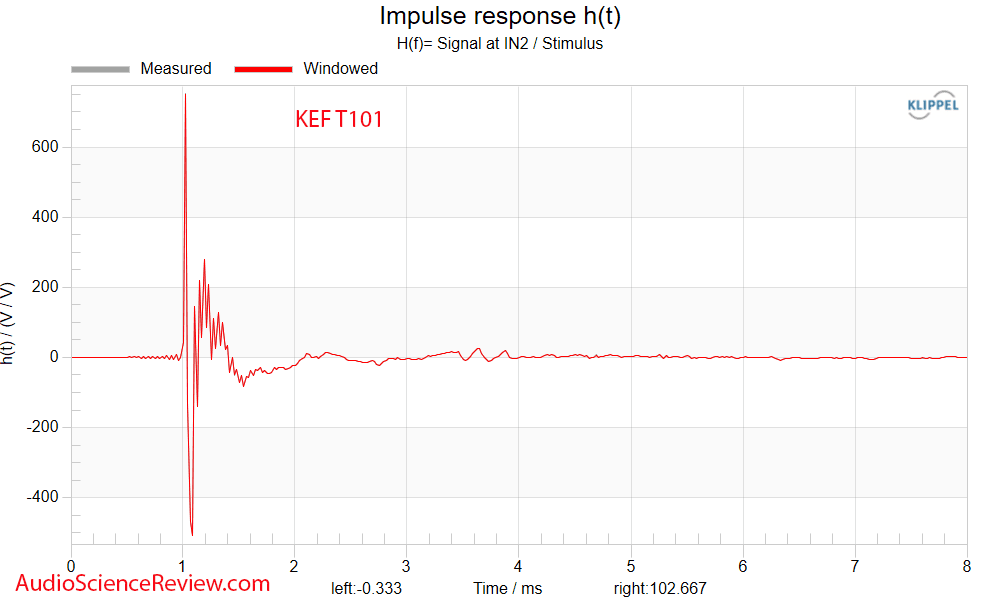 KEF T101 Listening Tests and Equalization
Seeing how one of the main applications are wall mounting I put the T101 in front of my flat screen TV to simulate a back wall. What I heard was the least hi-fi sound I could describe! I had to immediately shut the system down and move it to the stand away from walls which provided some relief. Still, overall signature was still wrong and very bright. Some of this is due to lack of bass but still, I could not tolerate it for much before applying EQ:
The first two filters are self explanatory. I put in the shelf quickly to get rid of the brightness. A more precise filter may have done better as the sound was still on the bright side. But compared to before, at least it was not flat broken sounding.
I was impressed with the ability of the T101 to play loud. Yes, there is zero deep bass but still, this is a little flat panel speaker so this much power handling was impressive.
I tried to add some bass to it with a filter at 100 and then 150 Hz but it just got tubby and poor sounding so I abandoned that.
Conclusions
I admire the three years of engineering KEF says they put in this product. I am amazed though at the end they decided to create such an objectively flawed response for a company with their skills and tools. What were they thinking? Crossover with a hole in it? Terrible boosted lower terrible? To what end? Yes, there is a bit of "showroom sound" effect there but come on, let's follow good practices in speaker design. Given the very positive effects of EQ, I can see that the components are wasted away in this implementation.
Needless to say, I can't recommend KEF T101, period. It is one, if not the worse sounding speaker I have tested. Yes, I appreciate the size constraints but per above, I think they could have done much better. EQ solves major ills with the unit but not to the level that makes it OK to my ears.
-----------
As always, questions, comments, recommendations, etc. are welcome.
Any
donations
are much appreciated using
:
https://www.audiosciencereview.com/forum/index.php?threads/how-to-support-audio-science-review.8150/