Founder/Admin
Staff Member
CFO (Chief Fun Officer)
Joined

Feb 13, 2016
Messages

35,017
Likes

130,568
Location
This is a review and detailed measurements of the Kali Audio MV-BT (Mountain View) Bluetooth receiver with balanced output. It was kindly purchased new by a member and costs US $99 including Prime shipping on Amazon.
At first I was disappointed with the plastic case that it comes in:
That disappointment went away once I powered the unit and turned the rotary control and a soft blue light showed the level on the arc.
Likewise, the stout balanced connectors are a huge step up from RCA connectors:
The application is in pro/sound reinforcement scenarios where you want to feed input from a consumer Bluetooth device. For us, it would be a nice way to add balanced output without risk of ground loops due to an extra power supply and susceptibility of such with RCA unbalanced connections.
Amazon customers complained about noise level and this will be one of the things I will be testing.
Kali Audio MV-BT Measurements
Our standard signals are not very suitable for testing of the lossy compression algorithms as their activity is content dependent. That said, we can test for basic electrical hygiene so let's start testing with the default Aptx codec. I used my Samsung S8+ Android phone, playing back my testing tones using Roon:
We see the classic AptX response with elevated noise level below 5 kHz. Output level is disappointingly low at just 1.5 volts using max volume (on both device and MV-BT). Switching to AAC codec, I was super disappointed to see quantization noise and pre-echo:
A sine wave should be dead simple to encode in AAC at almost any bit rate. I don't think this has anything to do with Kali but the encoder in Android. Will have to test an Apple device one day to see if it does better. Noise floor has improved over Aptx but it is a shame that we screw up the signal itself.
The only other codec supported was SBC: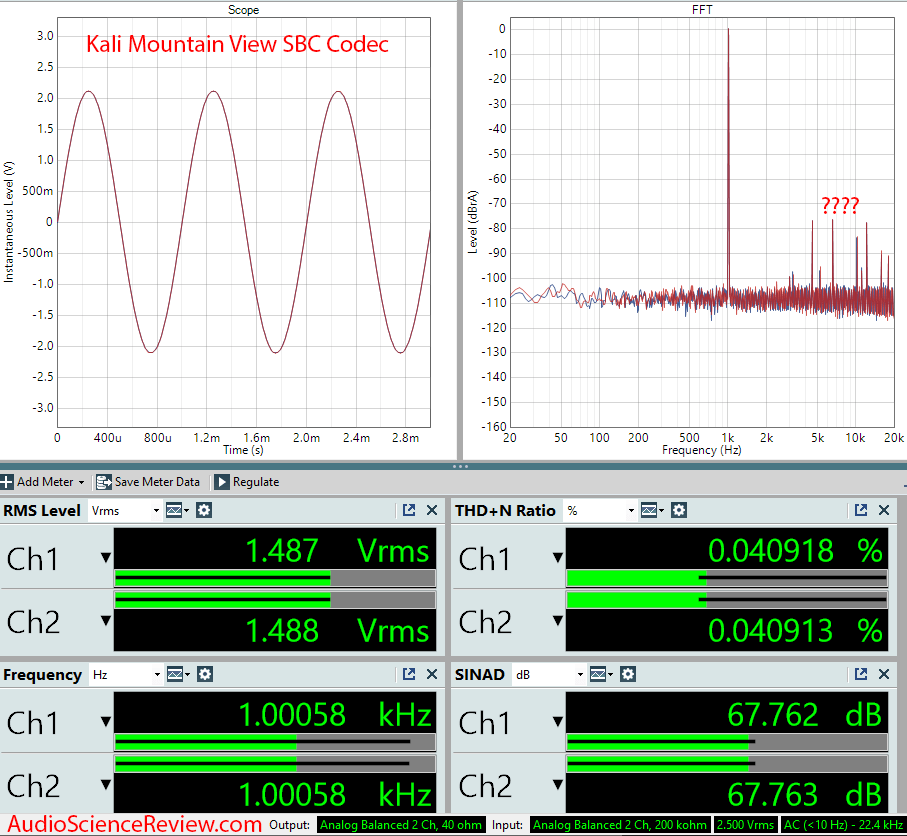 We have a nice flat noise floor and no-pre-echo (SBC is not a perceptual codec). Alas, there are some random spikes. More investigation is necessary to see where the fault is.
LDAC was not supported.
Next I ran signal to noise ratio test:
During the testing, I noticed sometimes the analyzer would show just 29 dB or 59 dB signal to noise ratio. Since this test is asynchronous, I thought it was instrumentation error. See the listening test section on why those were also real measurements.
I thought I use a dual tone SMPTE IMD test so that we have something other than a simple tone to encode. Here are the results starting with Aptx:
There was a dancing peak in the low frequencies which was fascinating. And we have an unwanted rise in noise floor around our high frequency tone. Not good.
Next was AAC was was a disaster on the low frequency tone:
Again, this is likely an encoding issue in Android but nevertheless, results are terrible.
Finally SBC which produced the only response that was not embarrassing:
SBC is whopping 24 dB better IMD ratio!
Kali Audio MV-BT Listening Tests
I queued up my reference female tracks and subjective performance of SBC was clearly better than AAC and Aptx. It had more detail and better channel separation. AAC also clearly suffered from compression artifacts with transients getting dirty and grungy due to compression artifacts especially on guitar strings (classic case with lossy perceptual codecs).
I had noticed during the testing that there was background hiss sometimes. I thought this was in the content but I had not heard it before. As I was playing with this, I realized that when I paused the music, there would be this audible dance of little clicks and moderate levels of hiss which had a mind of its own. It would come and go.
To rule out that the hiss was due to Kali implementation, I pulled out my Topping DX3 Pro and connected to it via Bluetooth the same way I had done with Kali, There was zero noise or hiss. Totally silent background when I paused music. Fidelity wise, same thing repeated with SBC sounding the best.
Conclusions
A smart product planner and mechanical designer created the perfect concept here of a professional Bluetooth receiver with balanced output. Sadly, whoever spec'ed the receiver messed up the whole plan and produced a noisy product that is not suitable for consumer application let alone professional. Given the cost of tooling and such, I hope Kali goes back and changes the Bluetooth module to a more performant one. They would then have a great product. Tagging
@KaliAudio_Official
in the hope that they can do this.
Credit should be given to the youtube reviewers who found the noise problem and reported it.
I am so sad to not be able to recommend the Kali Mountain View Bluetooth receiver.
Edit: video review also posted:
https://www.audiosciencereview.com/...luetooth-receiver-and-bt-codec-quality.21084/
------------
As always, questions, comments, recommendations, etc. are welcome.
Appreciate any donations using:
https://www.audiosciencereview.com/forum/index.php?threads/how-to-support-audio-science-review.8150/
Last edited: