Founder/Admin
Staff Member
CFO (Chief Fun Officer)
Joined

Feb 13, 2016
Messages

23,620
Likes

41,392
Location
This is an article I wrote for the Widescreen Review Magazine which came out in 2015.
----
Inside of a Premium Blu-ray Player
The teardown of an AVR in my last article proved very popular so I thought I immediately make good on my promise to continue on that theme and do the same to a premium Blu-ray player. The timing is perfect as it allows me to talk about the so many advances in our AV products on this 24th anniversary of Widescreen Review Magazine.
The Blu-ray player being dissected retails for about $600. Considering that you can get a brand name Blu-ray player for $60, this is certainly at the high-end of volume Blu-ray players.
High-level View
Figure 1 shows the major subsystems in the player. We see nice logical separation of each major subsystem which eases repairs, upgrades, and keeps noise potentially away from components that should not be exposed to it (e.g. analog audio). A lower-end product will likely have all but the power supply on the same board.
Figure 1. Module breakdown of the player showing nice logical separation of each function.
The circuit boards are unusual in that they are in black color which adds an element of class to the design. It has no electrical benefits though so it is there strictly for aesthetic reasons. Indeed the manufacturer proudly shows these same boards in their advertising.
Now let's dig into every major subsystem.
Optical Drive
Front and center and easiest to identify is the Blu-ray optical drive. In this case it is a multi-format reader which is a non-trivial affair. Believe it or not, the myriads of optical discs that can be read in such a drive have no easy way of identification! The drive/player goes through a sequence of reading every format it knows to read until it gets successful access. It may try CD first, then DVD, then Blu-ray. As if that was not bad enough, it gets worse. Some writeable discs can be damaged with the UV (Blu-ray) laser if you try to read them as some other type of media. So there is a bit of black magic in identifying each format successfully without causing harm. This is why your player sits there for a few seconds before it detects what is there to play.
The issues of multi-format playback don't end there. There are onerous licensing fees in addition to boatload of software to read all the formats (think DVD Audio). This is why not every player handles every optical format. There is considerable expense in design and testing of these products.
Continued availability of multi-format drives as we move into the future of digital streaming will also present a challenge in the future. So if you want such players, better stock up on a couple of them, use one and keep the other as back up! OK this is a bit extreme at this juncture in time but be mindful of this in the few years as the trend accelerates.
Power Supply
The next easy to identify module is the power supply. Simply follow the leads from the mains input plug and you are there. Before we get into the power supply, notice the nice attention to insulating the leads from the AC mains plug. They have a black heat shrink tubing on them. This protects against accidental shock for anyone working on the unit. And in the case of major incoming electrical surge, to keep them from arcing to the nearby audio board.
The two AC wires are both red which is an odd color. Red is positive in DC. In AC, we use white and black to indicate neutral and hot leads (in US anyway). Likewise the standard color for ground is green, not yellow. The leads have a nice retainer to the chassis which is good. Not so good is the fact that they are bit long and loop almost to the very sharp edge of the case. I saw no sign of damage to the insulation but left me a bit uneasy.
In my last tear down of an AVR, that unit had a traditional "linear" power supply. Those are indicated by heavy and massive transformers that run at the 50 and 60 Hz (cycles/sec) which our electricity infrastructure for our home uses. While there are much higher-end players that utilize such power supplies, the norm in almost all high volume DVD/Blu-ray player is a "switch-mode" power supply. These power supplies are much smaller and more efficient than linear supplies which makes them a great fit for small form factor of Blu-ray players. They are also the standard in every computer power supply. Indeed that is how you can have such small power adaptors for your laptop.
What makes switch-mode power supplies small is the fact that unlike linear power supplies, they run at far higher frequencies of 30,000 Hz and higher. The higher the frequency, the smaller the transformer. And since the transformer is the largest component in a power supply, we gain significant reduction in size and weight.
What makes switch-mode power supplies efficient is in their name: they switch their controlling transistors fully on and off. Transistors are most efficient in this mode of operation and dissipate far less heat. This is why billions of transistors in your computer CPU don't use up much power (relatively speaking).
The down side of switch-mode power supplies is the complexities of their design. They take far more components than a linear power supply as the incoming AC has to be converted to high-voltage DC, and then back to high-frequency AC. A feedback loop then controls that high-speed switching waveform in order to regulate the output voltage. This used to be a bit of rocket science but today, it is highly commoditized design and while still more complex than linear power supplies, the complexity is not a barrier at all to deployment.
The other issue with switch-mode power supplies is electrical noise. Since the recreated high-frequency AC signal is a square wave (jumping from zero to one), it by definition generates a ton of high-frequency harmonics/noise. If not controlled, this noise can act like powerful radio stations and pollute not only the internal components but also devices outside.
Regulatory agencies in US and Europe get grumpy when a device that is supposed to play Blu-ray discs also acts like a pirate radio station so they require high reduction of radiated noise. This is dealt with (mostly) through filtering of the mains wiring. Looking at the block diagram of this power supply in Figure 2, we see a pretty large mains filter block (compare that to just a couple of components in my teardown of the AVR in the last issue). There are a range of components there from surge protection to capacitors and inductors filtering noise. Note that this filtering is direction agnostic, meaning that it also acts as a very nice filter of incoming noise – likely far superior to any power strip with "surge protection" capability. I especially like the ceramic safety fuse visible by that white chalky material in between its terminals as opposed to clear glass showing its filament.
So thumbs up here on going the extra mile on AC filtering.
Figure 2. Switch-mode Power Supply showing the major components including the mains filtering and the ultra-small transformer.
Unfortunately the good news disappears when we look at the make and model of the electrolytic capacitors in the power supply and across the whole unit. You can see an example of this in Figure 3 which shows the input filter (after conversion of the AC mains to DC). The brand is "Su'scon." According to the company, Su is part of founder's name and "con" are the letters of their Japanese competitors! They may have the letters but not the quality. Japanese companies rule the premium capacitor market with such brands as Nichicon and Panasonic. While Su'scon is not nearly as bad as large number of no-name Asian capacitors, and the brand is used in everything from computer monitors to TVs, I don't like to see them in a premium Blu-ray player at these prices.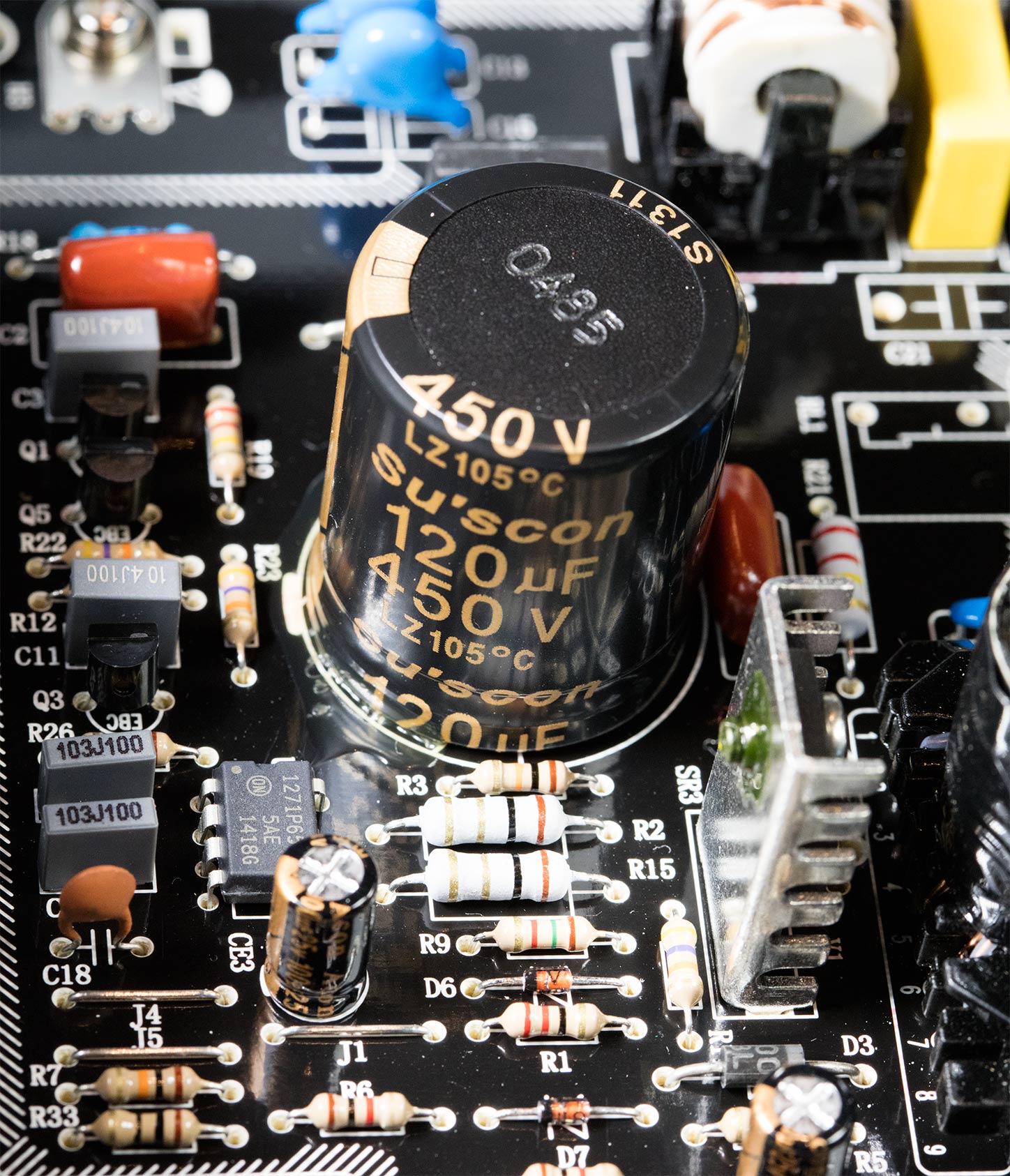 Figure 3. Low-end Chinese brand capacitor used for input filtering.
The news is not all bad as unlike the AVR we tore down in the last article, all the capacitors are rated at 105 degree C instead of the common and cheaper 85 degree rating. There is also good amount of distance between heat generating components and the capacitors. So our risks are lower here for a failure but the day will come when these capacitors bulge up and fail – potentially catastrophically taking down the rest of the circuit with them. Back to my advice to buy a spare player, be sure to keep it in a cool spot to reduce the chances of this.
Back to our power supply capacitor, notice the 450 volt rating. Yes, that is correct because the player is designed to also work in countries that operate at 240 volts and the peak rating of this once converted to DC is even higher which when you add some margin of safety, will require such high voltage rating for the capacitor. For this reason,
there are lethal voltages in this subcomponent even when the unit is unplugged! Please do not open and or touch the inside of your AV devices if you are not understanding the nature of this risk.
The capacitor holds its stored energy even after you unplug the unit and can act as if you touched your mains wire and deliver a very strong jolt. I say from experience.
Main Player Engine
We now get to the most important component of the player: the main processor and Blu-ray engine (Figure 4). The heart of the system is hidden below that large black heatsink. What is below is an SoC or System On a Chip. As the name implies, this is a highly integrated part incorporating not only a CPU but also all the peripherals for its intended application.
At the birth of Widescreen Review Magazine, such components did not exist. If you wanted an Ethernet interface, you bought a chip that implemented that and had to "glue" it (interface) it to the CPU yourself. Ditto for interface to main memory, storage, etc. Companies specialized in one or the other usually. But there came a time when scaling of semiconductor technology allowed the CPU chip to swallow these other components bringing with it reduced size, cost and often power consumption. An entire system could be implemented using one of these chips, hence the name System On a Chip. All you needed then beside these parts was some miscellaneous analog components such as power supplies. This is why an entire streaming player can be put in something as small as a thumb drive as seen in myriad of such products from Google Chromecast to Amazon Fire.
Figure 4. Main Blu-ray Decoding Engine and Application processor.
SoCs are now everywhere. TVs have it. Your smartphone has it. The work of the system designer is much simplified because they not only get a highly integrated piece of hardware, they get a large stack of software to go with it. Blu-ray SoCs for example come with not only the hardware to implement audio and video decoding but also the rest of the software stack to make a basic player. So the job of the designer becomes that integration, qualification, testing and refinements, not building everything from scratch. This is not to minimize the work involved as these are significant chores themselves but compared to where we were two decades back, we are talking about a quantum leap forward.
These is another reality here, namely commoditization which is where we are at for SoCs for Blu-ray players. When the format was first introduced, we had a number of SoC manufacturers competing with each other for this business from Broadcom to Sigma. At that time, the volume pricing for SoCs was around $20 to $25. In just a few short years, the cost shrank down to $5 or even less. That led to a number of companies existing this market including the Broadcom and Sigma. They would rather chase the lucrative wireless market for example than make pennies in much lower volume Blu-ray player business.
Probably the most notable manufacturer left in this market is the Taiwanese MediaTek which powers this Blu-ray player. The part being used is the MT8580 Blu-ray SoC. This the list of feature they show for this SoC:
H.264/MPEG-2/AVC/VC-1 video decoders

Dual-channel multi-format audio decoding

12-bit, one-channel TV encoder

Motion-adaptive, edge-preserving, video de-interlacing

148 MHz/12-bit, four-channel TV Encoder

ARM® Cortex®-A9 dual-core CPU

HDMI 1.4 Tx and Rx

3D video output

Ethernet
USB 2.0
The high level of integration is apparent. Starting from top, we see the hardware decoding capability for all three video compressions standards in Blu-ray format: MPEG2, H.264 or MPEG-4/AVC, and VC-1. We also see blocks for decoding compressed audio streams which in the case of Blu-ray interactivity, requires a voice over on top of the main movie sound and hence the "dual-channel" designation.
What used to be a separate engine for video processing for de-interlacing and scaling, is now standard in the SoC. Likewise HDMI input and output is also standard (this player can also ingest HDMI and can act like a little AV Processor).
What takes this architecture to the next level is the inclusion of a dual-core ARM processor, much like what you may find in your smartphone. No speed is indicated but I would guess 500 to 700 MHz so not quite to the speed of the one in your smartphone but still, pretty remarkable. When the first issue of Widescreen Review Magazine came out, the Intel 486 microprocessor powered computers and Intel struggled to get it to run at 60 MHz. Here we are now and our Blu-ray player has not one but two processors running at 10X that speed!
Ethernet connection is mandatory for support of BD-Live and for "apps" that these players now support such as audio streaming, playing of music from home servers and networked drives. AV devices have become "smart" today and are really multi-function devices pretending to be just a player. The extra features mandate the use of powerful CPUs and the use of an operating system such as Linux. Without the operating system all the functionality such as accessing the Internet, reading USB thumb drives, accessing home networks, etc. all have to be implemented from scratch. So player manufacturers always use an operating system. In that respect the OS is like the SoC but for software.
The downside to using a full blown operating system and that is exposure to security risks. The more code you have, and the more hackers are familiar with it, the more chances that they can breach it. Patches are routinely supplied to fix these problems but sadly, few if any manufacturers monitor and or push these fixes to their AV customers. To wit, I reviewed the list of firmware fixes for this player and did not see a single reference to a security fix. We are fortunate that these players are not an attractive target for hackers. I suspect they are all child's play to break into. If you want to be extra cautious, you may want to leave the Ethernet jack unplugged unless you really need it.
Back to our sleuthing, as I have noted on the picture, there are four K4B1G1646G DRAM ICs from Samsung making up our working memory. Each is 128 Megabytes for a total of 512 Megabytes. That is two to four times less memory than a typical smartphone memory as of this writing. Or about a tenth of what is in a typical laptop computer. So not much in computing terms but for an AV device, that is a ton of memory.
To permanently store the operating system and apps, there is a Toshiba TC58NVG3S0FT Flash memory that has a capacity of one gigabytes. Again, not much in the context of storage in a modern computing device but for AV products, that is substantial. That also means that there is a ton of software potentially in this machine, being responsible for fair amount of bugs just like any computer. To wit, the first time I powered up this player, after playing a few CDs, all of a sudden it hung when I inserted a new CD, causing it to hang and require a power cycle. Sound familiar? A firmware upgrade -- a strange concept just 10 years ago in AV products -- fixed it. There is no getting around it: these are full blown computers with all the complexities, bugs and potential security vulnerabilities.
Content Protection
One area of security which is taken seriously is protection of the video stream. Let's review how Blu-ray content is created. Audio and video are first compressed. The resulting content is then encrypted using a key. In other words, they are jumbled up so that if you don't have that key, you can't see the compressed bit stream. What is fascinating is that the algorithm, the method by which the bits are scrambled is open for everyone to see! Yes, you read that right. Everyone knows how the bits are scrambled. Extensive effort then spent to protect the key although that has proven to be insufficient with availability of programs that can "rip" Blu-ray discs. That aside, the Blu-ray/AACS license has a set of compliance standards that must be met before you can ship your product to better safeguard the key and decrypted video bit stream.
SoCs bring the power of hardware to this compliance requirement. A special subcomponent called the "Secure Processor" handles the decryption of the content. Once there, it immediately ships the bits to the video decode. An "app" running in the SoC cannot intercept the stream. It can only hand the encrypted/compressed bits to this subsystem and say "play this please." While there are ways to probably hack any system, this does raise the bar substantially with respect to how easy it is to reach into the player and take the precious compressed bits out once encryption has been stripped away.
Audio Subsystem
We now get to our last major building block, the audio subsystem. This is nicely designed to sit right next to the rear panel audio jacks, eliminating the use of wires that could pick up noise. The main component here is a DAC or digital to analog converter to take the decompressed bits by the SoC and turn them into an analog waveform. And a buffer/amplifier to help drive the cables that come out of the machine into your amplifier. This is of course assuming you are not using HDMI. HDMI is a digital audio interface and the SoC fully handles the audio for that. This board is only used for analog output on the RCA jacks, a mode that I use to play music using this player with my audio-only system.
The DAC is a highly integrated part by Cirrus Logic, the CS4382. This is an eight (8) channel DAC which handles 7.1 channels of audio. It also has programmable volume control for each channel. The cost in 1000 piece quantity is about $10 which ironically more than the SoC that controls the entire machine! Some things are commoditized more than others in hardware business. This part is also a less common bird in that in addition to decoding common PCM audio formats, it also handles DSD used in SACD and DSD digital audio downloads.
Analog signals at this stage are highly susceptible to noise and require very clean power. I was pleased to see dedicated plus and minus 15 volt feed from the switch-mode power supply further re-regulated by the voltage regulators on the right-hand side. Not so good news is the continued use of the Su'scon capacitors everywhere. Also not good is a very high-speed ASIC (custom designed digital logic) sitting right under the analog board as an extension of the SoC/digital board. Fortunately subjectively, the unit sounds excellent so while these things would be good hygiene in a high-end video player, the end result still seems performant.
Summary
As the old Oldsmobile commercial goes, modern Blu-ray players are not your father's AV products. They are fully capable and powerful computers in their own right and nothing one would have remotely predicted to come to fruition at the first publication of this magazine. With that complexity comes unimagined two decades back functionality such as streaming music and video and sharing of content around the home. Not all news is good because complexity brings the potential for bugs and security vulnerabilities. And price pressures even in this premium device means lower quality brand capacitors – the one part that is likely to age and fault.
Twenty four years ago there were arguments as to whether the computer or AV devices would "own the living room." The answer today is that they both had to come together to do that!
Amir Majidimehr is the founder of Madrona Digital (
www.madronadigital.com
) which specializes in custom home electronics. He started Madrona after he left Microsoft where he was the Vice President in charge of the division developing audio/video technologies. With more than 30 years in the technology industry, he brings a fresh perspective to the world of home electronics.
Last edited: