Senior Member
Forum Donor
Joined

Aug 13, 2021
Messages

448
Likes

1,063
Location
Late last year I purchased three NC500 modules, and a SMPS3k700 power supply, along with various other parts. I didn't need another amplifier, but you know how it is.
After trying various layouts in the the supplied case I've decided it was too small, and I would be better off getting another case for it. I've normally used cases from diyaudiostore.com, and they've been good, but this time I'm going to design and build my own case from scratch.
At the end of the project I will share all the files here in case anyone else is interested.

Everything is designed in SolidWorks, a common CAD package. All the parts are laser cut from 1/8" thick Aluminum Alloy, and can be screwed together using M4 socket head cap screws and square nuts. Using a tap and slot design everything is self aligning. I've used this feature on an assortment of medical product prototypes with no problem.
The case will hold four NC500 modules, and will has been designed with a 'blade' design to fit everything in. I will be using each module with a
NeuroChrome input buffer
. The design is flexible, and less modules can be fitted if desired. The SMPS also attaches to the side panel.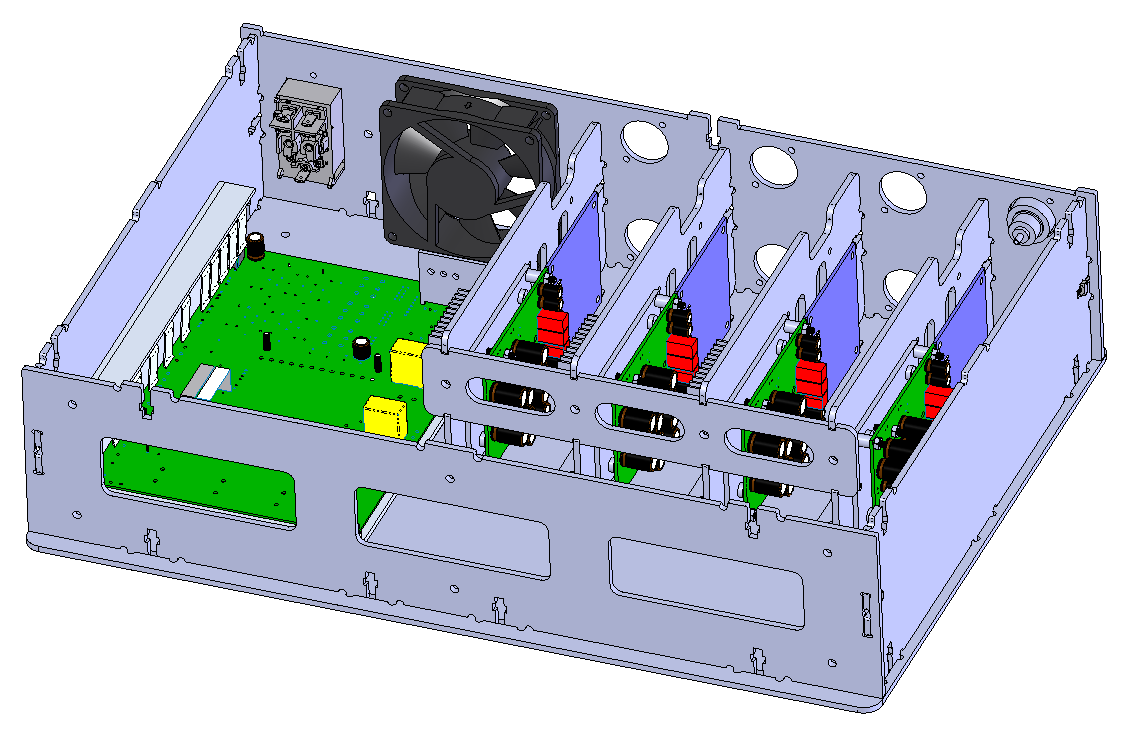 Overall height is 100mm (4"), depth is 310mm (12") and width is 430mm (17"). I've also included a cut out for a 80mm fan on the back, but don't think it will be needed (there will also be a custom fan guard over it). Rear connections are for Neutrik XLR input, and SpeakOn outputs. A switched and fused IEC socket is on the rear too, along with an internal grounding stud. I will probably also use a
NeuroChrome Intelligent Soft Start
so I have triggering, etc.
On the reverse side of each 'blade' there is room for a heatsink if needed. There are also cut outs in the top and bottom panel for ventilation.
I've recessed the front panel as it's a false panel. A front decorative panel will fit on the front and hide most of the assembly features.
Total cost for the case, making one unit only, will be approx $300. Everything is being made for me by
SendCutSend
, a laser cutting vendor I've used a bunch of times in the past.
I've only ordered a few parts so far, just to test fits and cable routes. They should be here in a week or so.
So any comments/suggestions. Now is the easiest time to make changes.