Addicted to Fun and Learning
Forum Donor
Joined

Jun 27, 2018
Messages

754
Likes

1,951
Location
The inspiration for this long "personal audio history" post came as I was responding to a vinyl thread elsewhere here at ASR.
My experiences with audio as a "hobby" started with vacuum tube amplification and recorded music on vinyl in 1954 - about two years after I was adopted and had recently moved with my new parents to the Marquette Park neighborhood on the southwest side of Chicago. We had owned a Stromberg Carlson Hi-Fi console similar to the one below that I found on eBay. The only LP I remember from my parents tiny collection was the soundtrack from the musical "South Pacific." They also had some albums of classical music on 78rmp discs.
Somehow I became aware of component audio when I was an usher for the Chicago Symphony Orchestra during the Fritz Reiner era when I was a high school student in the late 1950's. Anyone who is into classical music is probably aware of the incredible series of recordings by RCA of the CSO under Reiner. In fact, Sony released the entire collection as a 108 CD box set that is still available on Amazon for $800. Although I did not fully appreciate classical music and the historic era of those recordings, the experiences there established a lifelong apppreciation of classical musicc - and jazz - which I also heard for the first time at Chicago's Orchestra Hall. The first stereo recordings of the CSO were made by RCA in 1954, a few years before my part-time usher gig, and four years before stereo LPs were introduced to the world.
So in that musical environment, I began my lifelong interest in audio. in 1958, a church parishioner and friend of my father (the minister), who was an engineer at Chicago's Jensen Speaker Company, designed a big bass-reflex speaker for me using a Jensen duplex speaker with a concentric "cellular hown" in a 12" woofer. We used an external crossover to turn the horn into a midrange, and added a Jensen "super-tweeter." Dad built the enclosure from 1" thick German oak salvaged from a coffin that had been used to transport a deceased American tourist back to Chicago for funeral and burial - which involved a much fancier casket of course. I called my speaker the "Voice of the Dead." Unfortunately, no pictures of that monaural gem survived over the years.
Dad and his engineer friend also found a nice used 20w Bell Model 2300 6L6-based integrated amplifier for me.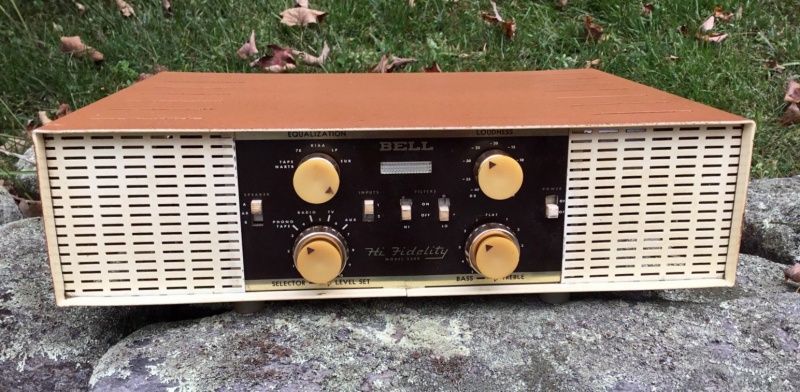 My "source" was a Garrard component "record changer" with a "ceramic" cartridge - probably this 88/4 model:
When the system was completed in 1958, I started buying music on vinyl - monaural LPs at first, because stereo LPs weren't even introduced until 1958. Below is a pic of the jacket of my first LP - mono, supposedly re-released in stereo in 1975, but I've never seen stereo versions of the songs on YouTube or as MP3's.
I was 16 y/o when I bought it to play on my new HiFi system, but my father, a non-drinking, conservative Presbyterian minister - took one look at the cover, and did not approve!
But for me, that component audio system and my George Shearing Quintet LP were the start of a lifelong love of not only the hobby of audio, but also Latin dance music and Latin jazz. I saw Shearing perform at the Great American Music Hall in San Francisco in the 1980s (he lived into his nineties and died in 2011). I actually still have a copy of the Latin Escapade album that I bought used for sentimental reasons a number of years ago - and it's the only vinyl I own. But I don't have a turntable, so I downloaded MP3's to listen to it on my current digital only audio systems.
Back to 1958, it took a while for most people to "upgrade" to stereo - it was expensive to add a stereo cartridge, a new stereo preamp or integrated amp, and possibly another power amp. My own transition to stereo happened in 1960 at Millikin University in Decatur, Illinois. A frined who lived in the same dorm and I bought a stereo cartridge and combined our completely different mono amplifiers and speakers to create a crude and completely unbalanced stereo system. We had glorious sound bouncing back and forth - the infamous ping-pong effect - and no concept of soundstage and imaging.
After dropping out of college in 1962 and enlisting in the U.S. Navy, and spending nearly five years as a hospital corpsman stationed at the Naval Hospital in Oakland California, I returned to civilian life in 1967. I love the SF Bay Area and lived most of my adult life there before falling behine the cost of living there moving in 2012 to live as an expatriate Panama.
Shortly after leaving the Navy, I bought my first decent component stereo system - A Dynaco SCA-35 integrated amplifier with EL84 tubes, Dynaco FM3 tuner, Dual 1019 turntable, Sony reel-to-reel tape deck, and a pair of "Quadraflex" house-brand bookshelf speakers from a local stereo emporium. I stepped on to the upgrade treadmill a couple of years later when I replaced the Quadraflex speakers with a pair of the original Heil AMT ribbon floorstanders.
And that was the beginning of a lifetime of buying and selling (mostly used), and upgrading and downgrading my audio system over the years as my income fluctuated, I went back to finish college (U.C. Berkeley), and got married and later divorced.
When CD's were introduced in 1982, I began buying them and stopped buying LPs. I have nothing against vinyl - I'm just not into it any longer. I am very sensitive to distracting pops, clicks and other surface noise, particularly in the quiet passages of classical music - so I moved to CD's shortly after they were introduced, but kept my vinyl for another decade or so, finishing off my vinyl era with a beautiful Empire 598 Troubador turntable - not the best turntable of it's day, but certainly one of the most beautiful.