I'm a beginner, and I've read enough to know that a good place to start is with the room. At the bottom of the post I've attached a floor plan and pictures.
I welcome any and all thoughts and perspectives.
I live in a row house. The semi-open first floor is roughly 10' x 34', divided in half into a roughly equal sized living room and a kitchen/dining area. The two areas are joined by a 6' wide opening - in other words, the two areas are separated by two 2' wide short walls that flank the opening.
From the point of view of how I live and will listen, I will only be in one side or the other at a time. In other words, it isn't necessary to attempt to provide quality sound to the entire space simultaneously.
I have a budget, but it is finite. I hope to limit the cost of speakers to $1000 to $3000.
One obvious solution is to position speakers on the dividing walls (see pictures and floor plan). Instead of buying four speakers (two per listening area) here's a radical plan: use just two speakers, positioned on or in the dividing walls, with the ability to be swiveled towards one side or the other. I would listen in the kitchen area, or the living room area, but not both simultaneously. And that way I could spend twice as much per speaker! Depending on how exactly this plan was executed, the two mini-walls might function as 2' x 7' baffles. Of course, there would likely end up being a gap between the speaker and the wall.
Of course, I want to hear your thoughts on where to place speakers.
There is an additional mini-dividing wall (marked "G" on the plan) that should probably be removed to open up a pathway for sound.
My approach to listening will be different in the two different living areas. In the kitchen, I will while moving around. On the plan, the kitchen listening area is marked "A". In the living room, I will be sitting, either on the couch which is along the wall away from the middle of the room, or even in a chair (temporarily) positioned in the "sweet spot" for best/critical listening. On the plan those areas are marked "B" and "C".
I throw the floor open to suggestions about what speakers (or type of speaker) I should use. To get the ball rolling (and given all of the above) here's a specific idea:
what do you think of the GGNTKT Model S1
Model S1 is a digital 2-way active system for front and surround channels for in-wall installation in immersive home theatres. Listen for yourself →
ggntkt.de
It's made for in- or on-wall installation, and I'm attracted by their claim that it provides a much wider and more consistent listening field than a conventional speaker, which I thought might be helpful given the fact that I'll be moving around when listening!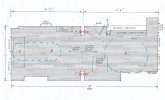 ps. I plan to post these questions elsewhere - at least on the DIY forum. I don't know if that's considered a violation of some kind....