So I had a few questions in my mind about headphones, frequency responses, and corrections.
How consistent are headphone frequency responses, not only among different sets of headphones, but also over the years of production? And also as they age, so not only the question of "does a headphone manufactured 5 years ago measure the same as one made today?," but also the question of "did the 5 year old model change over time?"
If there are meaningful differences in any of this, then it would seem as though the headphone corrections applied through things like sonarworks, etc, are not very good unless you pay for the custom service to measure and correct your specific pair. And even then, if they change over time maybe not so good.
I've seen multiple measurements from some headphones and my understanding is that most of these "correction applications" use an "averaged" response from many units. But if there is a meaningful spread of differences maybe this just means that the average doesn't fit many sets very well.
So to satisfy my curiosity, I decided to try measuring my own Sennheiser HD650 headphones. Instead of spending quite a bit of money buying some sort of testing apparatus, like the miniDSP ears ($249 before shipping/taxes), I decided to try making my own. After all, I already have a seriously good measurement mic, the earthworks M23R, along with a nice laptop, and an Edirol UA-25ex interface for doing room testing. And a fair amount of experience running REW and a few other tools. So why not give it a try.
Somewhere over the years, I recalled seeing a person build a simple wooden device for headphone testing, which he compared to the "EARS" jig and actually said it was as repeatable and for the most part just as good. That was easy enough to build in my shop, so here's what I fashioned together.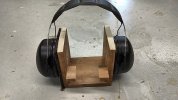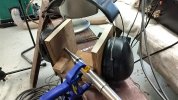 I did not expect this jig to be perfect, to be honest I didn't really know what to expect. So when I took some measurements, I was a bit surprised. It actually looks pretty good. I tried it with the mic on either side of the jig, with the mic pushed way in, and with the mic pulled just to the edge. I also cut the hole on the other side a bit larger, and tried all the combinations on that side as well. And I put felt on the side you see in the pics, and there is no felt on the other side. The measurements from all these different positions, angles, with/without felt, we are very consistent. When you pulled the mic out a bit, the curve was the same but the level was not as hot. The side with no felt was basically the same curve but with a few more wobbles above 10khz, but even those tracked pretty close.
Here are the left/right results from my HD650s. Be aware that these are not "calibrated" SPL results, so the SPL scale on the left is not accurate. I may try calibrating them at some point, but that will require me inserting my SPL meter in the hole the same depth as the mic, which might be tricky, but I haven't tried it yet.
However, the problem with the graphs, they are indeed quite a bit different from most of the published graphs of HD650s. My graphs show the main "spike" at around 5.2Khz as is shown. But most of the published reviews of these headphones shows the main "spike" to be around 3.5Khz. Here's Amir's review from here on ASR.
That chart indeed shows a spike around 5.2K, but it shows a bigger spike at somewhere around 3.5K that mine does not show. Mine also shows a low point around 2.1K that Amir's does not.
So now the questions are:
1. Is there something about my jig that is causing some issue around 2k-3.5K? The response below 1.5K and above 5K is very similar.
2. Or, is the frequency response of these two units actually that different?
3. My HD650s are about 3 years old and have been used significantly, almost every day, in a studio mixing environment. So they are well broken in. Could this be the difference between a "well broken in" pair vs a "relatively new pair?" I don't know how old Amir's were, but I would assume they were newly acquired and sent to him for review.
My original thought was there was some sort of reflection in the 2K-4K region caused by the wood and/or the angle of the mic. That was my initial reason for adding the felt. But that didn't really change things at all. Also if it were some interaction between the mic and the opening, I would at least expect some type of change in response if I moved the mic a bit, in/out, move it to the opposite side, use the larger hole on the other side, etc. But none of that changes the fundamental shape of this curve. Also, doing some math, even at 4khz a 1/4 wavelength is still more than 21mm, which is still far greater than anything in that chamber. So I can't see any sort of resonance/reflection being in play.
The only thing I can come up with is that my headphones simply do not have the same response from about 2k-3.5k. But maybe I'm missing something.
What say all the experts here?
Thanks, gabo