Major Contributor
The Curator
Joined

Nov 29, 2019
Messages

2,941
Likes

8,311
Location
Erin posted a review of the "Endow Audio Bravura 7" (which retails for US$6500/pair):
Update 2022-09-15:
Website review is now live: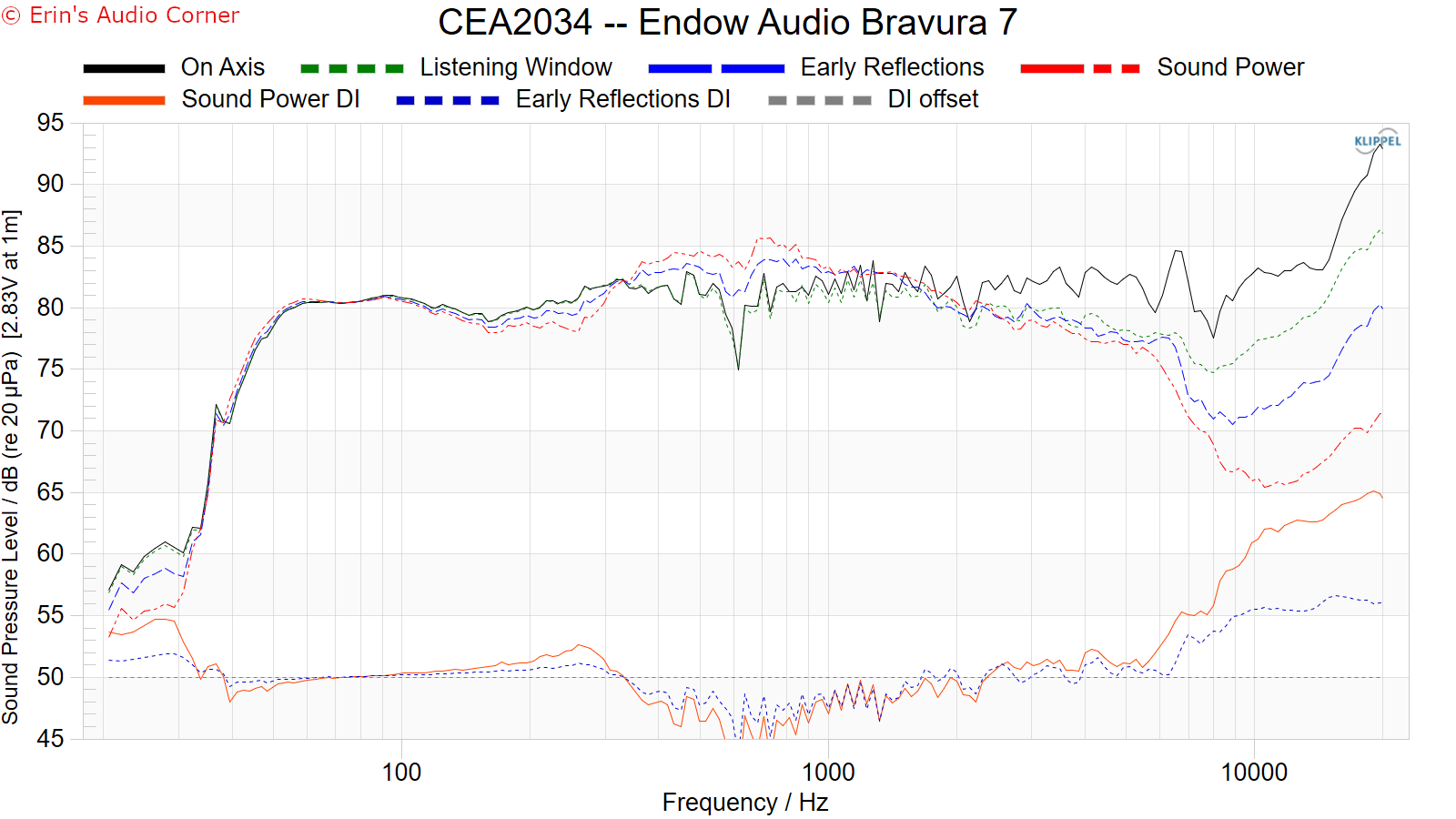 Parting / Random Thoughts
As stated in the Foreword, this written review is purposely a cliff's notes version. For details about the performance (objectively and subjectively) please watch the YouTube video. But a couple quick notes based on my listening and what I see in the data:

This is a very unique speaker. It is practically omnidirectional until about 6kHz where the tweeter/horn take over. At this point the radiation goes from about ±180° to just ±20° almost instantaneously. I've never seen or heard of a speaker that has such a drastic change in directivity.

Speaking of directivity, you'll notice that the DI of this speaker is also unique. The DI is negative from about 300Hz to 2kHz. This is because the reference point of the measurement is at the tweeter. I did conduct another set of measurements with the reference point at the midrange. The difference in overall response was minimal; notably only that the DI was no most at 0 through this midrange region.

So, how do they sound? Well, that's what the video is for. But in short: very, very open and large soundstage, highs that not very present, nice midbass snap but overall level compared to midrange seems a bit low. The most notable thing - to me - in terms of sound was just how important it is to be directly in line with the tweeter. At one point when I got out of my seat to go move the speakers a bit, I noticed I instantly lost high frequency detail as I began standing from my chair. You can see this evidenced in the data.

Compression is quite high with this speaker, notably through the entire midrange's response. On one hand, this makes sense because they mids are so small, they can't possibly have much excursion and I would expect some motor non-linearity to give them issues as they are pushed harder and harder. That said, with (9) of them, I didn't expect this to be much an issue. So, I'm a bit surprised by this. However, the high compression is relegated to the 102dB level so I could have simply just found the limits of this speaker. And that's why I perform this testing.

This is one of those speakers that just needs to be heard simply because of how different it is. A speaker that is practically omnidirection until all-of-a-sudden when it becomes very directional is extremely, extremly unique so trying to describe the sound is not an easy task. Overall, it wasn't my cup of tea. But it's definitely different. And that might interest you. Or, it might not.
Discuss!
Last edited: