Founder/Admin
Staff Member
CFO (Chief Fun Officer)
Joined

Feb 13, 2016
Messages

39,481
Likes

179,683
Location
This is a review and detailed measurements of the Emotiva XPA-DR2 "differential" power amplifier. It is on kind loan from a member and costs US $1699 from the company direct.
This thing a beast both in size and weight:
This, despite usage of switchmode power supply to keep the "weight down." Yeh right.
My back is still complaining....
There is no benefit to having a differential power amplifier but seems like they a pair of amps are used out of phase to double the power per channel:
The switchmode power supply changes supply rail on (power demand) to keep power consumption low at lower power levels ("class H"). In my testing, the DR2 barely got warm so the mechanism is working.
Emotiva XPA-DR2 Measurements
I was expecting good measurements but instead got this:
Wow, look at the harmonic spray starting at third one. SINAD of 64 dB ranks almost at the bottom of nearly 150 amplifiers tested:
Not good.
Fortunately signal to noise ratio is excellent so this is a quiet amplifier:
Frequency response and crosstalk are fine:
Multitone test though shows the high distortion across the frequency band:
The main meal here is power into 4 and 8 ohm loads versus distortion+noise:
That's incredible amount of power. Alas it is delivered with lots of distortion. Back to the power, check out the max and peak power:
And this is on a shared 20 amp 120 volt outlet. I don't think we have measured any other amplifier that comes close to this level of output.
Similar story holds (good and bad) for 8 ohm: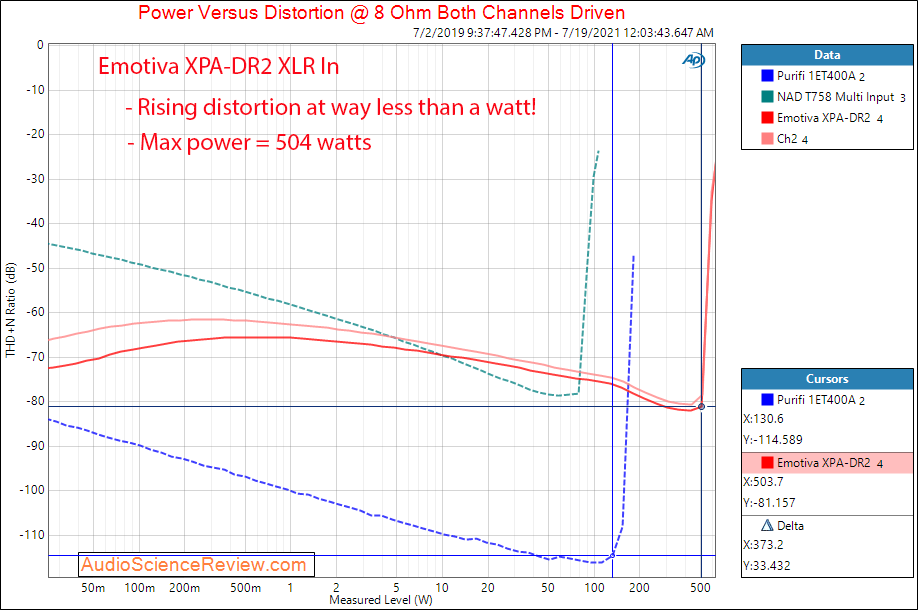 As you see the curve looks nothing like other amplifiers where they are first noise limited until clipping sets in. Here, distortion is front and center even at 50 milliwatts!
We get a look at the architecture of this amplifier by sweeping power at different frequencies:
We have a constant glitch around 20 to 50 watts which I am assuming is the amplifier switching rails to higher voltage. We also have rising distortion as seen in the previous graphs even at low power.
Conclusions
Assuming I don't have to carry it much, I love the build and great value as far as $/watt and maximum amount of power available. SNR is also good so you should be free of speaker hiss. Distortion is high though and there is no getting around it. Will you hear it? At 60 dB it is probably borderline for most people.
I can't recommend the Emotiva XPA-DR2 due to its high distortion. Otherwise, it is a very tempting package.
------------
As always, questions, comments, recommendations, etc. are welcome.
Every night I have dinner, wait for the sun to do down some and go pulling weeds in the garden. It is back breaking work given how large our garden is, and how out of control weeds have become. I get to relax when I come in though. Not tonight. Had to lug this monster up the loft to measure it! If you are feeling a modicum of sympathy for me after hearing this story, a
ppreciate some donations using:
https://www.audiosciencereview.com/forum/index.php?threads/how-to-support-audio-science-review.8150/