Founder/Admin
Staff Member
CFO (Chief Fun Officer)
Joined

Feb 13, 2016
Messages

40,307
Likes

190,275
Location
This is a review and detailed measurements of the Emotiva Big Ego+ USB stereo portable DAC and headphone amplifier. It was kindly sent to me by a member costs US $79.10 from company website.
For a portable product it is quite large but that also makes it a better fit for desktop use. Compared to typical dongle, you have a few more features:
It can act like a digital bridge taking USB input and converting it to Toslink optical. You can then select between it and analog line out. USB input though is the very old fashioned mini USB which tells me this design is fairly old. You also have a choice of a few reconstruction filters which is never found on this class of device.
Emotiva Big Ego+ DAC Measurements
Let's start with line out:
Disappointed to see less than 2 volt output and high distortion which dictates SINAD to be in our "red"(poor) category:
Fortunately noise is a step better:
High distortion pollutes IMD measurements as expected:
Above -20 dB you are already in cheap dongle category. Multitone distortion lands in similar spot:
Jitter is not bad compared to dongles: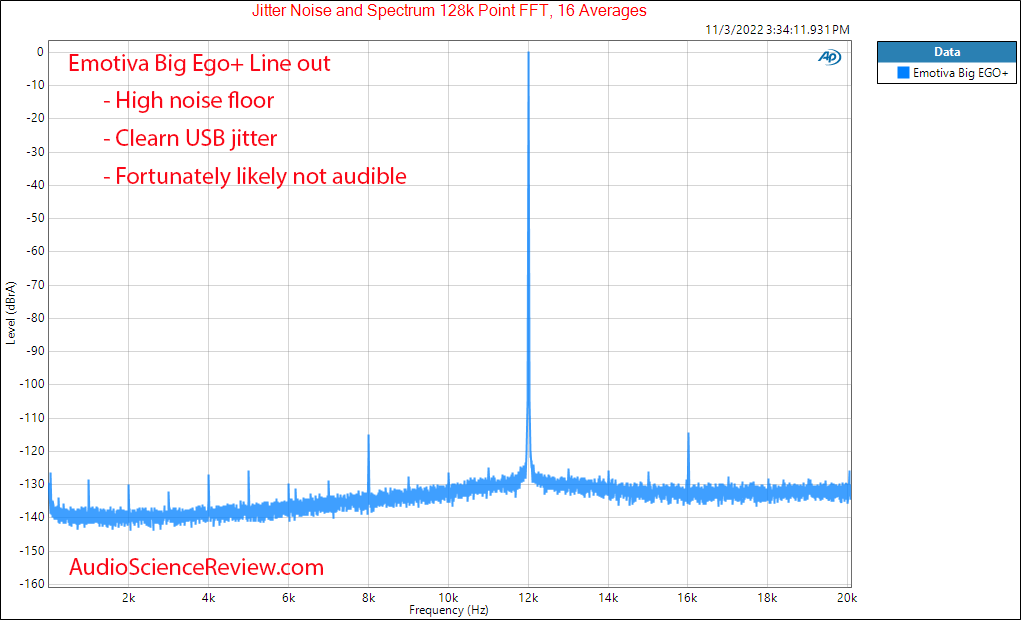 Linearity is good enough for class:
Filter performance is poor seeing how it doesn't attenuate out of band spectrum:
This and high distortion translate into very poor THD+N vs frequency:
Emotiva Big Ego+ Digital Out Measurements
Running our dashboard we immediately see that the Toslink output is "bit exact:"
So you can use it as a transparent bridge from USB to Toslink.
Emotiva Big Ego+ Headphone Out Measurements
I was surprised to see so little output level:
This is partially due to low output voltage but also high output impedance. This means it can create frequency response errors in headphones that have variable impedance (all but planar magnetics). So really not a good or even a fair attempt at producing output for headphone use.
Conclusions
I like the case and transparent bridging to Toslink. Other than that, performance is simply not competitive. It is as if the company doesn't know how much the world has moved on in DAC and headphone output performance. For same or some more money you can get a much smaller dongle with far better performance such as
Hidizs S9
.
I can't recommend the Emotiva Big Ego+. It just doesn't have good performance and lack of output drive means you can easily hear that on many headphones. Only saving grace is the Toslink output.
----------
As always, questions, comments, recommendations, etc. are welcome.
Any
donations
are much appreciated using
:
https://www.audiosciencereview.com/forum/index.php?threads/how-to-support-audio-science-review.8150/