Founder/Admin
Staff Member
CFO (Chief Fun Officer)
Joined

Feb 13, 2016
Messages

25,011
Likes

51,386
Location
This is a review and detailed measurements of the Emotiva Airmotiv 6s. It is on kind loan from a member. The 6s is discontinued but I think it cost US $400 for a pair.
The 6s is a chunky and large monitor as these devices go:
I was surprised that there was no gain control available:
Input sensitivity even with XLR input was very high. I had to drive it with just 0.13 volts for the testing.
The 6S is quite heavy as well with a dense cabinet.
Measurements of the Emotiva 6s was performed using the
Klippel Near-field Scanner (NFS)
. This is a robotic measurement system that analyzes the speaker all around and is able (using advanced mathematics) to subtract room reflections. It also measures the speaker at close distance ("near-field") which sharply reduces the impact of room noise. Both of these factors enable testing in ordinary rooms yet results that can be more accurate than anechoic chamber. In a nutshell, the measurements show the actual sound coming out of the speaker independent of the room.
Spinorama Audio Measurements
Acoustic measurements can be grouped in a way that can be perceptually analyzed to determine how good a speaker can be used. This so called spinorama shows us just about everything we need to know about the speaker with respect to tonality and some flaws: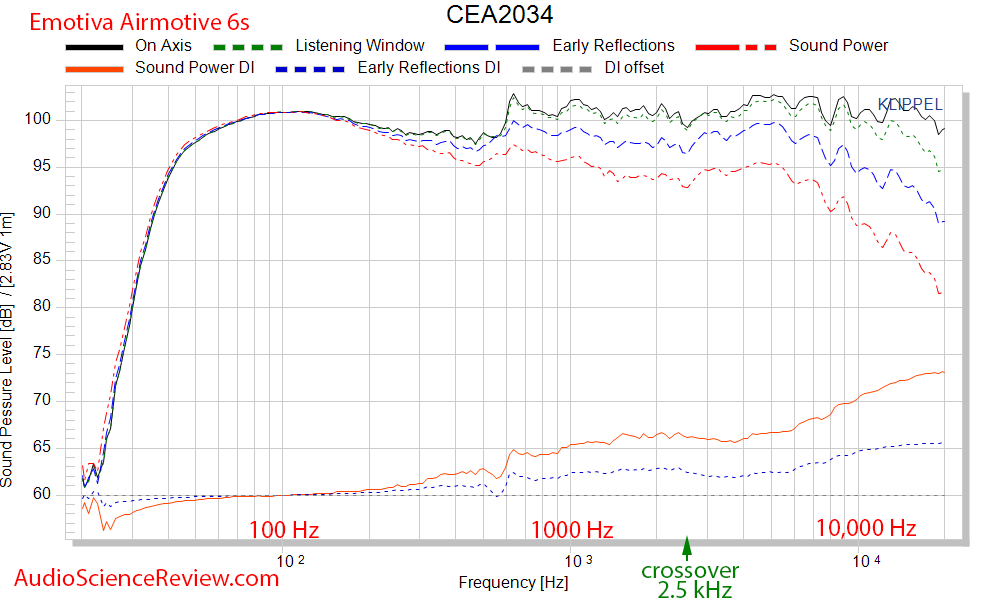 Looking at the listening window (dashed green line on top), the response is flat but with a suck out between 300 and 600 Hz. Below that there is a lot of bass. And above it while ragged, you could kind of pretend it is flat. The crossover is at 2.5 kHz which is quite far from where the dip is. It seems that some kind of DSP processing was used to boost the lows way up as we have seen in some other powered monitors. At the cost of some efficiency, the peaking response from 600 Hz up could have been pulled down for a proper response. But maybe the speaker would not sell as well in quick demos.
And oh, please ignore the vertical scale. I am struggling on how to get this to be calibrated well to what it is supposed to be with powered monitors. I set it to 79 dB at 2 meters as the standard stipulates but then what is computed is well above that. The relative levels are correct however so the dip is the dip.
Making some assumptions about what reflections may exist in a room, we can get a mix of direct and reflected sound and get a graph that attempts to predict what the tonality of the speaker would be:
Clearly we have a built-in EQ here with a dip in 300 to 600 Hz as noted earlier, and a peak between 3000 to 7000 Hz. With some music and ears this would be good, with others not.
At this point, if you are not a speaker nerd, you can jump to the listening section and then conclusions. For others more advanced measurements to follow.
Advanced Measurements
Early reflections which have a strong influence over what we hear in our rooms shows some bad ones:
You would want to absorb floor reflections (blue) to lower the peak at 600 Hz and droop at crossover frequency of 2.4 kHz.
Looking at fuller picture of reflections we see similar issues:
We see a droop in the response vertically (right) at crossover frequency of 2.5 kHz.
When we combine all the reflections we see the clear step function up around 700 Hz:
High-resolution contour plots (1 degree spatial resolution) shows the strong variations in signal on axis (due to frequency response variations):
Vertical slice shows the holes we saw in our 2-D chart:
There are no CSD charts as I am still not happy with what I am getting. Making progress though but still not there.
Of course there is no impedance chart because these are powered speakers.
Distortion test is being worked on and not ready to be plotted. But subjective experience below.
Crossover Behavior
The CEA-2034 spinorma chart like above severely underuse the Klippel NFS system since it only cares about measurements every 10 degrees in two dimensions. The NFS computes the entire soundfield so we can perform sophisticated analysis such as what happens in and around the crossover frequency of 2.5 kHz:
At 2000 Hz, the woofer is creating most of the energy as we see one more of less unified wavefront. At crossover point though, we have a complex soundfield with the tweeter and woofer mixing and producing that tri-axis response.
As a comparison let's look at what happens to the
Revel C52
center speaker as it hands the signal from its mid-range to tweeter:
We see a single projection that more or less smoothly falls off in all directions. More insight is seen when we look at the same but into the speaker:
You can almost make out each driver in the acoustic field that we have measured! And see how they are nicely blending into each other.
Of course it is an easier to job to blend a smaller midrange into the tweeter but great help is provided in the form of the waveguide around the tweeter to optimize this.
I will try to run this test in the future.
Very informal Listening Tests
I set up the Airmotiv 6S on my desk and compared it to the JBL 305P Mark ii (i.e. all testing is near-field with speakers around 3 to 4 feet away from my ears). There are multiple dimensions here, all matching the measurements. With content that has upper bass content but not very low, the 305P despite its smaller size has more bass. However, with anything that has deep bass, the 6S pulls way ahead. Translating into real life, light 'audiophile' and jazz type music had a bit more bass on the 305p than 6S. Switch to rock and techno and the 6S pulls way ahead.
Output level testing was interesting. The 6S can get quite a bit louder but has a window after which it gets severely distorted by bass notes. Basically if you can see the woofer flapping around, you are way out of its discomfort. The JBL 305P on the other hand, doesn't distort but gets thinner and thinner sounding. Clearly some kind of limiter is keeping it from blowing its brain. Net, net, the Emotiva 6S can fill a much larger room and higher SPLs. Just don't confuse it with a quality bookshelf speaker driven by a powerful amp. It starts neck and neck and then dies.
Outside of bass performance, when the suck out in low frequencies was not an issue, I thought the Emotiva pulled ahead of the JBL. It is able to play to much higher levels and while bright, I also found the 305 to be so as well. I asked my wife to come and listen which by then was quite annoyed with all the noise I had made. She listened for a few seconds and instantly declared the Emotiva the winner.
Conclusions
There is no reason to buy as speaker that has a suck out in upper bass if you had a choice. If you don't care and want something that plays loud near your desk, the Emotiva does OK. I went into the review expecting the 6S to perform poorly but it did not end that way. The extra bass performance has a lot of value subjectively.
------------
As always, questions, comments, recommendations, etc. are welcome.
I had to run this test twice and a bunch more time spent trying to get the darn levels right. In other words, I worked overtime and expect to get time and a half pay for it. Please
donate
using
:
https://www.audiosciencereview.com/forum/index.php?threads/how-to-support-audio-science-review.8150/
Last edited: