Founder/Admin
Staff Member
CFO (Chief Fun Officer)
Joined

Feb 13, 2016
Messages

43,213
Likes

220,810
Location
This is a review and detailed measurements of the Denon AVR-X4800H 9.4 home theater receiver. It was kindly drop shipped by a member and costs US $2499.
While the look is the same as previous generations, the feel of the control knobs is much improved which I appreciate. Menu system is also modified. Importantly there is now a per-pair selection to disable amplification on any two adjacent channels. We finally have a very good solution for selectively adding external amplification. Here is the back panel:
AVRs usually take a long time to measure due to multiple subsystem and myriad of settings that can impact measured performance. On top of doing that, I ran the measurements by Denon which provided some feedback on a couple of problem areas. Upon retesting the whole unit again, I landed on similar measurements as Denon. All in all, a ton of time was involved in testing the unit so please, please don't ask for other measurements.
I hope to ship the unit to its owner who has been waiting a long time for his AVR.
I performed an over the air firmware update of the unit. I ran into a minor issue which Denon cannot replicate. In Pure Direct, the HDMI output remains active whereas it shuts off with Toslink. I don't think this impacts the performance but thought I mention it.
Denon AVR-X4800H DAC Measurements
I set all the channels to pre-out only and measured the DAC performance through the preamp output on the back (left and right channels only). Here is our dashboard for that using HDMI:
And Toslink:
SINAD varied a bit while running and hence the small discrepancy. This puts the 4800 just a small step behind last generation
AVR-X4700H: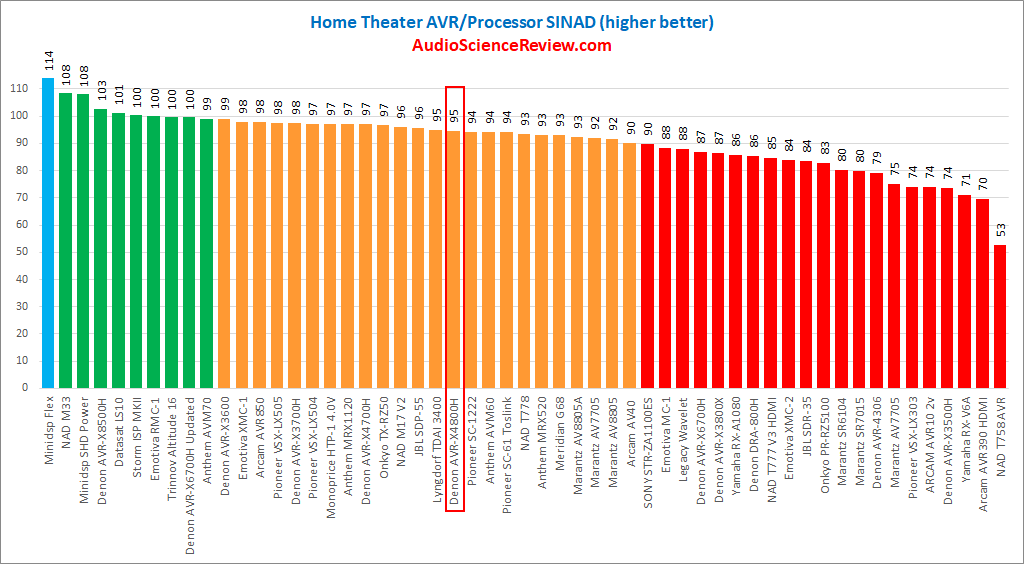 I wish Denon would strive to land in the green area with their future offerings in this tier. Above is at volume level which generates the nominal 2 volt output which required a volume level of 82.5. Many of you may run the unit at lower volume levels so here is how SINAD varies based on volume control:
Ignore the time axis as this is the way I capture the results. The dashed red line tells you the output voltage from the pre-amp and blue the SINAD.
Here is our dynamic range:
Linearity was good as AVRs go:
Multitone test shows frequency independence which is good:
Here is our IMD distortion test:
Wish there was not an uptick in distortion around -22 dB or so.
A bigger wish is for better attenuation of out of band energy:
Here is the corresponding frequency response:
The insufficient attenuation causes our wideband SINAD measurements to look worse than it should:
The 192 kHz shows how good it could be with a perfect filter. Still not great by desktop standards but much better than what we see at 48 kHz.
Finally we have jitter on HDMI and Toslink which were essentially the same:
Denon AVR-X4800H Amplifier Measurements
Let's start with our usual test of analog input into left and right channels:
As you see and noted, I had a heck of a time trying to minimize the effects of ground loop. My first test showed much worse results. When I looked at Denon data, I went back and tried many combinations until I got results that were actually a bit better than theirs. I think the double insulated aspect of these AVRs is partially responsible for difficulty of measuring them in this respect. This is quite good results for an AVR:
Most of you will be using HDMI as input and here is the best results for that:
This changed the grounding yet again so some variability to be expected. Do note the new test protocol: instead of lowering the digital input level, I chose to lower the volume control to get the near 5 watt output. So that is another variable but I think better matches usage of the unit.
We can see the impact of using the DSP with analog input:
Nice to see 48 kHz of bandwidth indicating 96 kHz sampling of the digital input (and processing internally?).
I stayed with analog input for the rest of the tests.
Here is our SNR:
I just realized that I may not have re-run this test post my grounding optimization.
Ditto for crosstalk although it should not matter there:
I did repeat these tests though starting with power into 4 ohm:
Here is our max and peak power:
So healthy headroom courtesy of shared power supply for all the channels.
Here is our 8 ohm performance:
Multitone performance could be better:
Here is our sweeps with different frequencies:
Finally warm up behavior:
You can see the variability I mentioned earlier.
Conclusions
Supply chain issues caused a regression in DAC performance of Denon AVRs, one of our favorite brands as far as performance. Happy to see that degradation being much smaller in the case of X4800H. Usability is much improved with selective channel pair amplifier disconnect. And ability to output 2 volts without clipping.
I am going to put the Denon AVR-X4800H on my recommended list.
----------
As always, questions, comments, recommendations, etc. are welcome.
Any
donations
are much appreciated using
:
https://www.audiosciencereview.com/forum/index.php?threads/how-to-support-audio-science-review.8150/