Hello,
First time posting any DIY related things on here. Got back into audio recently and discovered ASR. Fun stuffs, Y'all are def most entertaining.
Anyways, I've been into audio on and off over years. The last time I was deeply into this hobby, it was when I built my first set of speakers (LxMini).
Coming back this time around, I figure I'd try some serious "boxed" speakers, my only good reference has been on the LxMini (active speakers). They're fantastic btw.
I'm a habitual DIY'er and I approach most things in life that way. So naturally, when it comes to music reproduction, I like to combine my two favorite hobby together: Woodworking and Audio.
This time around I want to get into some mid-fi level gears ( good stuffs that I can source or build without spending ten of thousands). I read tons of review from this site thanks to Amir
. Big fan.
As an engineer myself - I can appreciate using science to evaluate a product's worth.
I was looking for some high-end DIY speakers that I can build that can maybe compete with the so-called expensive retail "audiophile-grade" equivalents. I came across CSS Criton 1TD-X. After reading about them and read various reviews I figure enough people have liked them it can't be that bad. Long story short, I went the 2TD-X because I figure I just want to build it once and build it right. Go big. Literally.
Anyways, this is not as much of a build log as a build-post. I build it all over a weekend so there wasn't so much progress in between. I was just focusing on getting it done, but did take some pics in between.
I'll try to explain my choices and decisions when it's appropriate.
I'll start with this picture. I cut all the panels from 1 and a half 4x8 sheet of Baltic Birch. I went with Baltic birch simply because I hate working with MDF. And MDF is a nightmare to finish. But on top of that, I just almost always prefer wood+stain whenever possible. It's just what I like.
Back tracking a bit, here is how I cut out the internal braces. There are 8 of em', 4 per cabinet. The holes can be cut nicely with a 3 1/2 hole saw bit. I just stacked 2-3 at a time and just drill 4 holes. Gotta love power tools!
In the beginning, it was a pain to try to remove the cutout wood pieces form the hole saw bit trying to pivot em' out with a screwdriver. Eventually I got an idea to just use a screw as a pivot point to pull em' out. Much more effective.
I then finish off the left over side wedge with a jig saw.
I then use quarter rounds with a router tool to help with internal diffraction ( I think I use 3/8 or 1/2 here. I forgot).
Dry fit to make sure everything fits just right.
Can never have enough clamps :') . Notice I did this in my office. It got really cold after dinner but I wanted to keep working on these so I brought things inside.
The next day I went to work on the front baffle. Nothing fancy here, just using a circular jig+router for the recess cut and jigsaw for the actual driver cutout. Notice I freehand the cutout with the jigsaw and it's not the best. :')
Here I am test-fitting the drivers onto the front baffle and also testing out to make sure I put the crossover together correctly. I forgot to take pics of the crossover connections. I totally forgot about it! I did upgrade to the more expensive crossover parts if anyone is curious.
I use power tool whenever I have a chance to - no shame! I hate freehand cutting circles when the holes are too small for a jig. Anyways, hole saw bit 2-3/8" and 3" are perfect size for the back ports and terminal cutouts.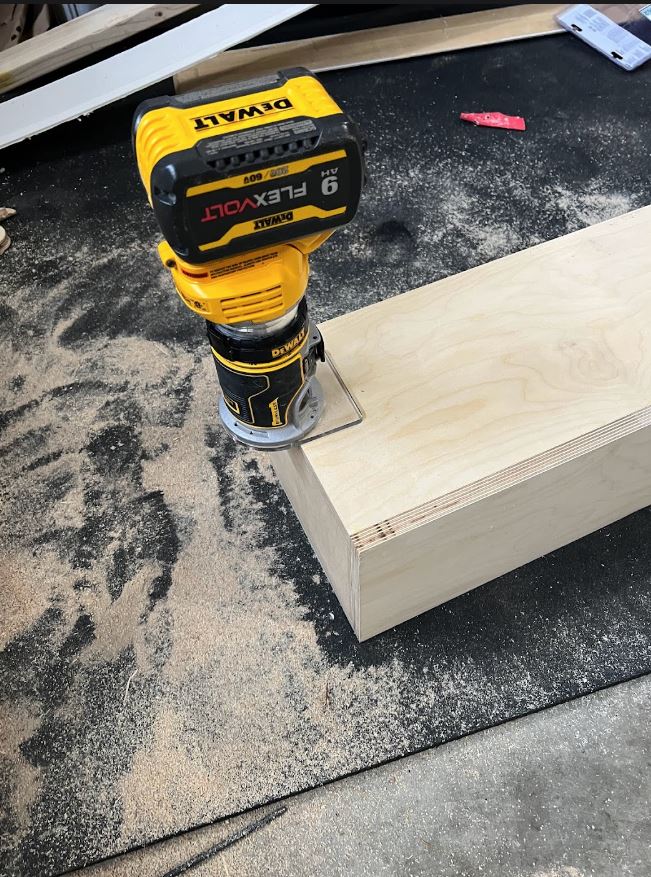 Before sanding, I use a clean up bit with the router to make sure all the edges are aligned. Some minor calculation errors means there are 1/16 over hanging here and there.
One last picture of all the raw wood before putting things together.
Alright - I think it's worth to discuss what's going on here. These two pictures is what I interpret what Dan & Kerry have in mind base on their instructions from their site. The only two other people that have any pics on how they did theirs were different from one another. And even for me, my version is also different comparing to theirs.
I started off by deciding where I want to put the cross overs. Some people put it at the bottom of the tower, some put it at the top, and some in the middle. To me it makes sense to put it in the top 2 sections. The reason being is that, you need less wiring if the woofer is close to where it should be connected to the cross over. Less wires == better sound, right?? JK
No, another main reason I put the crossover here is because I want easy access to the crossover just in case I mess up and/or if I want to fix/update/change parts to the crossover later on. CSS has a history of letting you upgrade drivers/crossover from their legacy products.
So next is the foam. I just used up using whatever that was provided. I didn't find a way to have black foam on all internal surfaces. I had some left over denim insulation foams so I use it to cover the remaining surfaces (at the bottom sections) that wasn't covered by the black foam that came with the kit.
Oh and one last thing before I close up, in the instruction they mentioned it was alright to cover up the crossover, so I did just that, just to make sure I get some diffusing material directly right behind the drivers.
I then attach the front baffle, closing the twins up one last time!
Finish Em'! Heh
One of my main hobby is woodworking so I try to integrate that into most things in life. (Tiny flex - but I also build those two sliding barndoors in the background
. It's one of the main reason why I chose to use Baltic birch instead of MDF. I want to be able do a stain finish for these. I'm not a big fan of veneering, takes the fun out of woodworking. If I'm going to spend this much on a DIY kit, I mind as well go all out and do the best I can with material and finishes.
I did the finish sanding with 80->150->220 grit with a random orbital sander. I then hand-sand the last layer down with 150.
The reason for 150 is because I use Rubio Monocoat as a finish and they don't recommend to use their product on very smooth wood surfaces.
Rubio Monocoat is awesome, rather expensive. But what you get is a 1 coat wax stain finish. Alternatively, normally I'd do a minwax stain + poly, but that process takes over 2 days between waiting for stain to dry and applying layers of poly and waiting for that to dry. Anyways, you get the idea. BTW - I use Rubio Monocoat Black here. On Baltic Birch it turns out to be similar to Dark Walnut.
Rubio Monocoat means I get to be lazy and just apply the finish and 1 hour later I can move the cabinet around to install drivers and add finishing touches etcs.
And here's the final product after slaving away over a weekend:
I haven't spent a whole lot of time listening to these yet. I was beat by the time I finish them last night and it was into the late hours. I got up early this morning super excited and did get to listen to them for a bit before heading to work.
I am very happy how these turn out. I will try to remember to give a full listening impression later. It's not like I'm a elite audiophile so my opinion is questionable at best.
These are my babies - they can sound bad and I wouldn't be convinced otherwise. I like them and glad I made em'
Oh my full setup with these will be :
Streamer - Rpi on Volumio
DAC - SMSL SU-9
PreAmp - Schitt Freya+
PowerAmp - BuckEye 2-Channel MP252
I'm still waiting for the Freya+ and BuckEye amp to come in to fully evaluate these speakers.
Hopefully this post can help you guys out with planning ahead, etcs.
Oh - I got a lot of ideas and I learned some tricks ( that I obviously applied to my build) watching this guy build his set as a reference:
He's way better than I am - worth a watch if you plan to build these.
Last edited: