Founder/Admin
Staff Member
CFO (Chief Fun Officer)
Joined

Feb 13, 2016
Messages

42,665
Likes

214,785
Location
This is a performance review and measurements of Micca OriGen+ USB DAC and headphone amplifier.
I purchased the unit through Amazon for $109 including (prime) shipping.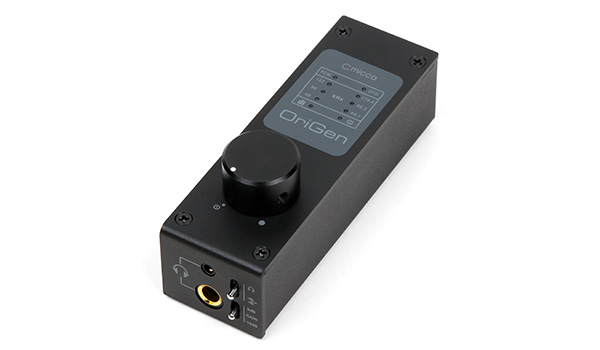 As you see, the box is somewhat odd looking compared to typical DACs. But overall build feel is very good. The device is pretty hefty and for this price range, it has good number of features.
The good news stops at hardware though. Installing the software drivers in Windows 10 anniversary edition is quite convoluted. The only process that works is in their FAQ rather than manual. I never did manage to get it installed on my laptop. Frustrated I had my son install it on my desktop machine and he managed to get it working. If you want a plug-and-play device or a simple setup that just installs, look elsewhere.
The unit oddly has three outputs. One large headphone jack. One small headphone jack. And a rear output that looks identical to front headphone jack. A switch in front controls the front or rear small headphone jack output.
USB connection is through microUSB that is a welcome change from the large USB connectors everyone else uses. There is an option for external input power but I did not have a plug that was skinny enough to fit it. So all of this is with USB power as is the case with all the other DACs.
I did all of my testing with the volume knob at max. It did not seem to clip or have other harmful effects which is good. A switch selects 0 db output or -10. Testing was done at -10 to be consistent with other DACs on hand.
Quick test of the unit unfortunately showed
one headphone channel to be dead.
I contacted them yesterday and while they responded in a day asking me for my Amazon order number, there was no other follow up by tonight. So I am forced to take advantage of Amazon 30 day return policy to return the unit.
I also told the company I was reviewing their DAC but there was no acknowledgement of that in their support response.
Anyway, back to testing, I used my favorite J-test, 48 Khz sampling test signal. This is essentially a 12 Khz tone with the signal going up and down in level one bit, forcing a lot of bits to change (making it a "J-test" signal). Its relevance in USB connection is not high but since it is an industry standard, I continue to use it. As always a perfect DAC would output single sharp line at 12 Khz and nothing else.
As a way of reference, I also tested my iFi iDAC2 which retails at $349. Here is how the two performed against each other:
OriGen+ is in red, and iFi iDAC2 in green. As we see, there are some extraneous spikes that rise up above the noise level which otherwise is the same as iFi. There are also some odd looking spikes right around our main tone. At -120 dB these are audibly harmless but measurably worse than iFi.
The above was with the headphone output (the only working channel). Here is the output from the stereo headphone jack in the back of the unit:
Now this is odd. Both channels show degradation relative to the front headphone jack. And one channel (green) has that wavey overlay riding on the noise floor. Again, these are likely audibly benign but show less than perfect engineering. I would have expected the line out output to be cleaner than front headphone jack and at any rate, to have similar performance in both channels. We did not get that.
Compared to $20 DACs I last tested, this is a huge step up.
Summary
While the engineer in me doesn't like the small amounts of measured aberrations in this DAC relative to one that costs 3.5 times higher, this performance is still excellent. Not so excellent is poor quality control resulting in a unit that has one defective channel. And a driver install process that is nightmare from hell. So overall,
I cannot recommend it.
So the search for ultra bargain performance DAC that is easy to install continues.
As always comments and feedback are welcome.
Last edited: