Founder/Admin
Staff Member
CFO (Chief Fun Officer)
Joined

Feb 13, 2016
Messages

28,184
Likes

72,675
Location
This is a review and detailed measurements of the BIC Venturi DV62si bookshelf speaker. It is on kind loan from a local member and costs US $120 including free shipping on Amazon (for a pair). So definitely in the extreme budget category.
You certainly are not going to be impressed with fit and finish of this speaker:
There are reports of people getting the speaker with the tweeter rattling inside as it is glued apparently!
The woofer is large (good for bass) but with no waveguide and tweeter distanced from it, it is likely going to have directivity errors (direct sound not matching reflected ones).
The back panel is definitely utilitarian but does the job:
Peaking inside the port, there is no stuffing that I can see.
There are 429 ratings on Amazon with average of 4.5 with most raving about its sound. There are a few people with two stars though which complain about harsh highs that get to you after short listening. As a buyer, you would be confused as hell trying to integrated these wildly differing views and will likely believe the positives.
Measurements that you are about to see were performed using the
Klippel Near-field Scanner (NFS)
. This is a robotic measurement system that analyzes the speaker all around and is able (using advanced mathematics and dual scan) to subtract room reflections (so where I measure it doesn't matter). It also measures the speaker at close distance ("near-field") which sharply reduces the impact of room noise.
Both of these factors enable testing in ordinary rooms yet results that can be more accurate than an anechoic chamber.
In a nutshell, the measurements show the actual sound coming out of the speaker independent of the room.
I used over 700 measurement point which was sufficient to compute the sound field of the speaker. Measurement axis is the tweeter center.
Temperature was 78 degrees. Measurement location is at sea level so you compute the pressure.
Spinorama Audio Measurements
Acoustic measurements can be grouped in a way that can be perceptually analyzed to determine how good a speaker is and how it can be used in a room. This so called spinorama shows us just about everything we need to know about the speaker with respect to tonality and some flaws:
This is not good. Response is uneven and much elevated high frequencies. Directivity also falls apart (distance between black and blue dashed line changes). This means the sound will be room dependent as you see from early reflection curve:
So whether you have a thick carpet or not, will determine if you see a large or small dip around 3 kHz.
Predicted in-room response is not pretty as a result:
Some of the uneven frequency response is due to odd choice of crossover point:
Notice that the woofer in red keeps going to some 7 kHz with its ups and downs after 3 kHz (I read some place that crossover point is 3.5 kHz). This may have been intentional to juice up the highs as much as they could as that adds to the tweeter energy.
Impedance is reasonably high which makes it an easier load on the amplifier:
We see a few kinks in the graphs which indicates resonances (parts of the speaker singing when those tones come at it).
I played with the waterfall graph to show more time and low level response:
Personally I think it shows too much stuff that offends the eye but perhaps not the ear. Let me know if you want this new format from here on. Not promising if I will listen to you though.
Directivity Speaker Response
What we hear is the sum of direct and reflected sounds. Ideally these would be similar but they clear are not here. Let's start with our beam width:
Man, this is out of control. There is no attempt to get the off-axis response to be similar to on-axis. We see it more dramatically in our 3-D chart of the same: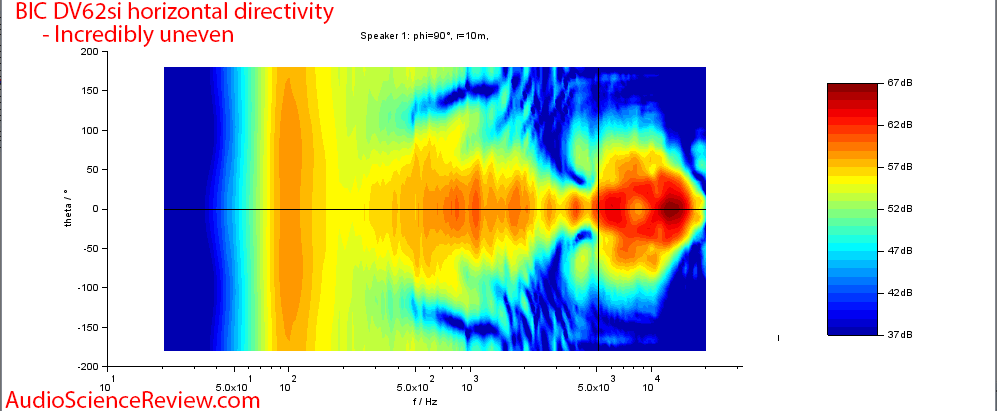 I think this is the worst horizontal directivity plot we have seen.
Vertically 2-way speakers are not usually good but this is worse yet:
Speaker Distortion Measurements
Speaker tests have become very resource and time intensive as of late. So for this speaker I did not use my Audio Precision and am only going to show Klippel results:
Starting on the left, letting the woofer play too high is resulting in elevated distortions (my guess). At 96 dB, distortion is everywhere and at all frequencies more or less.
Here is the absolute level:
Speaker Eye Candy Visualization
Haven't done this in quite a while but I thought I examine the sounfield around where woofer breaks up:
We see a lot of sound sources interfering with each other. For grins, here is the phase response at the same frequency:
With this phase salad, anyone who talks about phase mattering better put aside that argument.
Speaker Listening Tests
Let me tell you: there is marketing wisdom behind the sound of this speaker. At first listening, the highs are so distinct and stand out so well that you think you have world's highest resolution speaker! No wonder there are so many reviews about it sounding good. And the more deaf you are in the high-end, the more you will like it!
It did not take me long though as I played through my tracks that I realized how bright it can be. On some notes it is so sharp that the sound spears through one ear, hits my brain, and comes out the other ear!
Vocals generally sound OK but lisping can be pronounced both in level and distortion.
On the positive front, the larger than normal woofer brings warmth and ability to play really loud.
I suspect the preference score for this speaker will be poor but I bet many of you in blind tests will score it high.
It was not until I applied some EQ to fix its response that I realized how broken it sounded:
The aggressive and blunt roll off in my low pass filter tames the highs very well. Turning it on and off showed the seductive aspects of elevated highs but also how bothersome they were getting.
Once there I played electronic bass heavy tracks and was turned off by the tubbiness and unpleasant nature of them. So I decided to put in the filter in yellow to bring their levels down as predicted in the measurements. That improved them fair bit but the end result still was not great.
I tried my high pass filter but even at 30 Hz, it took away "good bass" so I left it there.
When all was done, the result was much more pleasant but I could still hear unnatural grittiness and distortion in vocal high frequencies.
Conclusions
I tell you: this is such a battle of correct design, response, and hi-fi listener wanting to hear "detail, resolution, etc." I would love to blind test this speaker against our reference ones to see how well it does.
The large woofer and ability to play loud is a strong plus. Too often we are getting these tiny woofers in budget speaker which may measure well but don't produce loud, good bass.
Anyway, I can't recommend the BIC DV62si even though I understand why the popular vote is so strongly in its favor.
-----------
As always, questions, comments, recommendations, etc. are welcome.
I tell you, this speaker review business is tough. Seemingly every review includes a bunch of protests which takes time to deal with . I guess that is the nature of the people we have drawn to this site. What can be dealt with is cheering me up with more money in my pocket as usual. So please
donate what you can using:
https://www.audiosciencereview.com/forum/index.php?threads/how-to-support-audio-science-review.8150/
Last edited: