The
Behringer ULTRA-DI DI20
is a cheap
DI Box
. DI boxes are usually used on stage to convert an unbalanced source into a balanced source for transmission over longer distances, e.g. from a keyboard to the FOH mixing console:
use a short unbalanced cable between the keyboard and the DI box
use a long balanced cable between the DI box and the mixing console.
DI boxes also offer a ground lift switch to break a ground loop which may induce hum into the system. Therefore you can use them also in a stereo or HT system if there is a problem with ground loops or hum, e.g. when a satellite receiver is connected to the amplifier.
DI boxes come in two flavours:
passive - using an audio transformer. They can handle large voltage differences due to galvanic decoupling.
active - using an amplifier with balanced output. Power is supplied by 48 V phantom supply (built into every good mixing console) or a battery.
The DI20 belongs to the latter flavour. It contains 2 channels (which can be linked to feed a mono signal into 2 different inputs) and an attenuator which is switchable between 0 dB, 20 dB and 40 dB attenuation. It contains a ground lift and can be fed by 48V phantom supply or a 9V block battery. The housing is made of aluminium but I would not rate it as stage proof - meaning you should not step on it with full weight or roll a rack over it. The switches would not survive such rough treatment. But for a price of around
21 €
you cannot expect that much as stage proof DI boxes are usually 5 to 10 times more expensive.
I bought the DI20 for connecting a Notebook to a mixing console when doing multimedia shows, both for myself and for the local Alpine Club where I organize the monthly shows. No one can step on it so no hard handling expected. It saved several shows where without the DI20 hum and noise would have hampered SQ a lot, so it really works.
This is how it looks like after a few years of (little) use. View from the top:
View from the side:
Bottom view with battery compartment:
Looking Inside
Since I'm the owner and the DI20 is no longer under warranty I gave myself permission to open it
. To do so you must remove 2 bolts on the short sides, the 4 bolts of the XLR outputs and the 2 nuts of the TRS inputs, like shown here:
Now you can lift the cover to see this:
Remove the felt strips of the 4 switches and you see the main PCB:
Actually, I don't know these chips. (
EDIT:
I thinks it's a
TL064C
made by STMicroelectronics ). Since the nuts were sealed I stopped the teardown here. Looking through the open battery compartment reveals the backside of the main PCB with several decoupling caps:
Measurements
Specifications:
Frequency response: 10 Hz to 70 kHz (-3 dB)​
Noise: 100 dBu​
Distortion: < 0.014% (1 kHz, 0 dBu in)​
Input resistance: > 250 kΩ​
Connection impedance: > 600 Ω​
Max. input level: +12/+32/+52 dBu​
​
Measuring equipment
I used the RME ADI-2 PRO fs to feed the DI20 with an unbalanced signal. The XLR output was connected to the RME as well. The unused XLR output was connected to an old Edirol UA25 USB interface to feed the DI20 with 48V phantom voltage.
Dashboard
Lets start with the Dashboard, channels driven with 0 dBu (spec) and the RME as loopback in the background (green):
Channel 1:
THD: -76.0 dB, Noise: -84.9 dB, SINAD: 75.5 dB, Output: 0,7 V
rms
Channel 2:
THD: -76.6 dB, Noise: -85.3 dB, SINAD: 76.1 dB, Output: 0.7 V
rms
THD:
very close to spec, so nevermind.
Noise:
noise may be dominated by the 50Hz peak, which is well within the inaudible region and independent of the supply (same results for battery supply and phantom supply). The 50 Hz peak does not even change when the DI20 gets no power at all, and it rises if I touch it with my hand. It also stays the same if I disconnect the XLR cable from the DI20s output. It disappears when I connect the XLR cable to the RME itself as one can see in the loopback result. Therefore I cannot say whether the specified 100 dB may be reached without thew 50 Hz peak. On the other hand you should expect similar behaviour in a real world application.
Behringer specs the maximum input voltage as +12 dBu so I feed it with such a signal as well:
Not good. Channel 1 is OK but channel 2 seems to clip severly. I reduced the input voltage of channel 2 until it did no longer clip which was +10.5 dBu, and then it looks similar to channel 1 at +12 dBu: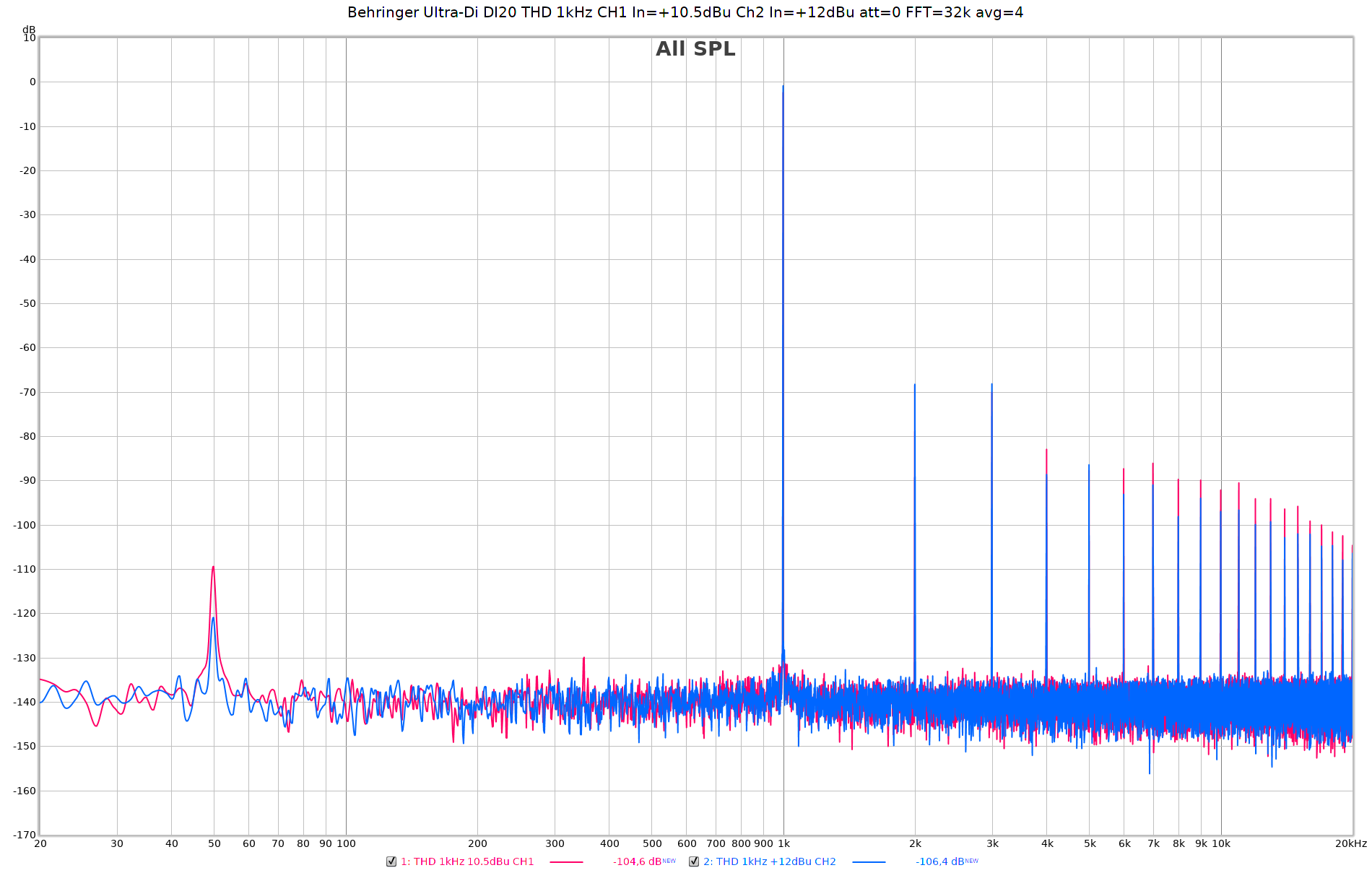 Anyway, THD is more than 10 dB worse compared to the rated input voltage, so one is well adviced to activate the attenuator
to keep THD low.
IMD
I measured IMD using the CCIF signal (19 + 20 kHz) at 0dBu, again with the RME loopback (green):
Multitone
I fed the multitone signal with 32 frequencies to simulate music at 0 dBu, again with the RME loopback (green):
Well, not so good. Distortion rises quite a lot with frequency.
Frequency response
I used a sweep from 2 Hz to 90 kHz at -3dBu, channel 1 only, and shown with the frequency response of the RME in loopback (green):
Not ruler flat as the RME, but definitely good enough and certainly within specs.
Conclusion
Well, you get what you pay for. I would not use it in places where I expect rough treatment. If in doubt activate the attenuator to ensure that the DI20 does not clip. At the rated input voltage you still have 10 dB less noise than THD so you don't have to pay much in doing so.
If you take this in account
I happily recommend the DI20 as a cheap and reliable problem solver
. You have to keep in mind that a signal with perfect sound quality which suffers from induced hum sounds much worse than a not so perfect signal (having passed the DI20) without induced hum.
Last edited: