Founder/Admin
Staff Member
CFO (Chief Fun Officer)
Joined

Feb 13, 2016
Messages

35,343
Likes

135,387
Location
This is a review and detailed measurements of the Ascend Sierra Luna Duo which the company touts for both center and main application. It is kindly sent by a member for testing. It costs US $798
each
.
The Duo as the name indicates, is the doubled up S
ierra Luna speaker which I just reviewed
:
As with its smaller brother, it is a very solid and heavy enclosure for its size. As noted, it can also be put on its side as a center speaker:
I chose to measure and listen to it in vertical configuration as this configuration usually performs very poorly in horizontal setting.
Measurements that you are about to see were performed using the
Klippel Near-field Scanner (NFS)
. This is a robotic measurement system that analyzes the speaker all around and is able (using advanced mathematics and dual scan) to subtract room reflections (so where I measure it doesn't matter). It also measures the speaker at close distance ("near-field") which sharply reduces the impact of room noise.
Both of these factors enable testing in ordinary rooms yet results that can be more accurate than an anechoic chamber.
In a nutshell, the measurements show the actual sound coming out of the speaker independent of the room.
I performed over 800 measurement which resulted in error rate of less than 1% throughout the range.
Temperature was 61 degrees F. Measurement location is at sea level so you compute the pressure.
Measurements are compliant with latest speaker research into what can predict the speaker preference and is standardized in CEA/CTA-2034 ANSI specifications. Likewise listening tests are performed per research that shows mono listening is much more revealing of differences between speakers than stereo or multichannel.
Reference axis was the tweeter center.
Ascend Sierra Luna Duo Measurements
Acoustic measurements can be grouped in a way that can be perceptually analyzed to determine how good a speaker is and how it can be used in a room. This so called spinorama shows us just about everything we need to know about the speaker with respect to tonality and some flaws:
And we have flaws coming out of our ear, pun intended! Do we not want transparency when it comes the all important mid-range where the single voice is? Why would anyone want to mess up the recording like this? Yes, there is more bass than the smaller version but the rest of the problems remain. One of the main design failures as with the smaller one is the port: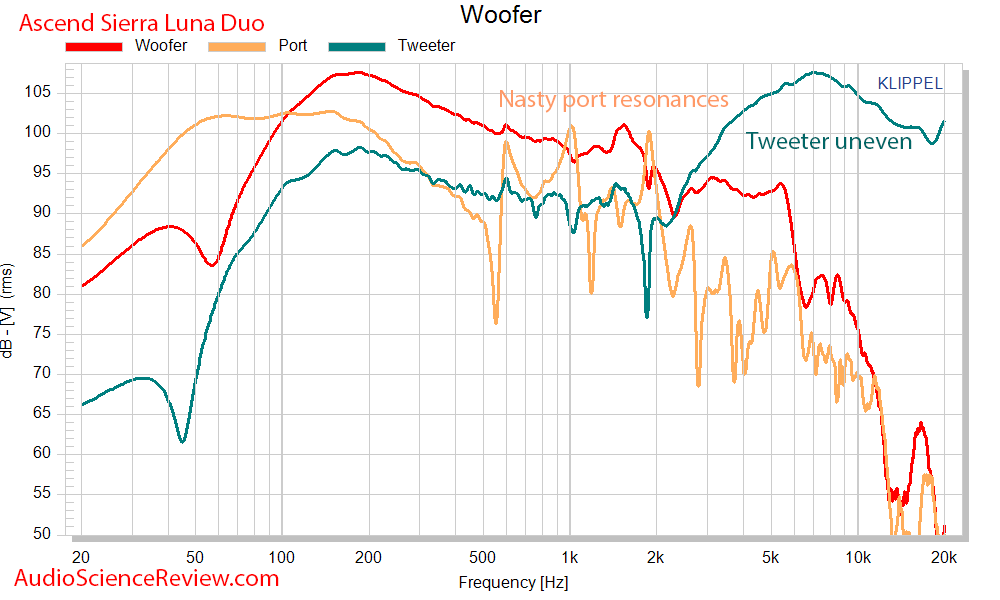 The larger enclosure did not change the nature of these.
Off-axis response is very poor as well:
Combination is as bad as one would expect:
Beam width is good due to small woofers relative to size of the tweeter:
Colorized version of the same though shows the very uneven response:
Vertically the optimal listening angle is razor thin:
If you used this speaker horizontally then where the above becomes your horizontal response, you better sit at the axis of tweeter and not move one bit! Never mind about anything else sitting to your left and right.
Really, not much else matters but here they are anyway:
Ascend Sierra Luna Duo Speaker Listening Tests
I measured the speaker last night and listened to it today. Not remembering much about the measurement other than port issues, I thought maybe the addition of more bass improves the experience. It did not. What bass there is, is not pleasant. There is less brightness though although there is still plenty of lispy. The worse part was that the speaker ruined my entire audiophile playlist. These are tracks that sound good on majority of speakers (hence the reason they are used at shows and such). Here though, the experience was terrible. I would never use them with this speaker to show off my system. I am sorry abut I can't put words to the total because it is such a mess.
Attempting to fix the issues other than removing the room mode at 100 Hz was not close to making this speaker pleasurable.
To makes sure I was not in a bad mood, I replaced the Luan Duo with
Revel M105
. Wow, or wow! I was back in heaven enjoying beautiful tonality and clarity. While they are a bit wider, they are actually shorter than the Luna Duo.
Conclusions
The Ascent Sierra Luna Duo is one of the worse measuring and sounding I have tested out of near 100 this year! Company says this about it:
Oh, I can "turn back." You don't even have to ask me. If I had bought these speakers, I would turn around and ship them back. How can the designer be so blind to the objective and subjective faults of this speaker? Has he not measured or heard a properly designed speaker? "Refinement?" In this speaker? You have to be kidding me. "Realistic?" Like to what? An AM radio? So no, I need no "warning" from that tweeter which can't manage a flat response or one that is inline with the rest of the response.
Needless to say,
I can not in any form or fashion recommend the Ascend Sierra Luna Duo.
------------
As always, questions, comments, recommendations, etc. are welcome.
If you are an American citizen, please go and vote. I did yesterday. You can always
donate money later:
https://www.audiosciencereview.com/forum/index.php?threads/how-to-support-audio-science-review.8150/