Intrigued by
Amirm's review
of Anthem AVM60 A/V processor and having one unit available, I tried my hand at making quickly some measurements, to see where they fit together or not.
I state that these results are very good, even if they are obtained in a less stressful situation. Amirm's measurement results are much worse, maybe due to a unit defect or a set up not fully correct (a modern A/V is very complex to configure).
AUDIO SPECIFICATIONS
11.2 Channels Preamp; XLR/RCA output
DAC: AKM AK4458 Differential Output
ADC: AKM AK5381 Delta-Sigma
DSP: Quad-Core Cirrus Logic CS49844A
Frequency response (2Vrms output): 10Hz–35kHz +0, –0.25dB
THD+N: -95dB at 2V output
S/N: Ratio: 110dB at 2V output
MEASUREMENTS
All following measurements have been made with this set up:
- Input: HDMI L+R at 24bit/192KHz PCM, via a blu-ray player (only audio, no video);
- Output: XLR Front L+R;
- ADC: via RME ADI-2 PRO FS at 24bit/192KHz (Sharp filter);
- Load: 18 Kohm;
- ARC disabled, no bass management, no dolby volume;
- Volume: -3dB (2Vrms output at -1.8dBFS input);
FREQUENCY RESPONSE
Module L+R: -1.8dBFS Tone sweep 10Hz-96KHz; 2Vrms output (-3dB)
​
The frequency response is very good, flat beyond the audible band, with a little difference between channels, < 0.2dB.
Phase L+R: -1.8dBFS Tone sweep 10Hz-96KHz; 2Vrms output (-3dB)
Small distortion in low frequency; pronounced in the mids and highs: this is due to the D/A filter, as can be seen in the impulse response.
IMPULSE RESPONSE
Impulse Response, band limited @96KHz: 2Vrms output (-3dB)
​
The curve is not symmetric: It seems that the AVM60 uses IIR filters for D/A conversion, not phase-linear.
CROSSTALK
Crosstalk RL+LR: -1.8dBFS Tone sweep 10Hz-96KHz; Volume -3dB; 1/3 Smoothing
Crosstalk figure show very good values, below -110dB at 1KHz, with modest increase up to -100dB at 20KHz; small dB the difference between the Front L and the Front R.
HARMONIC DISTORTION
Sine -1.8dBFS @ 1KHz R: 96KHz bandwidth, 1M samples, 2Vrms output (-3dB)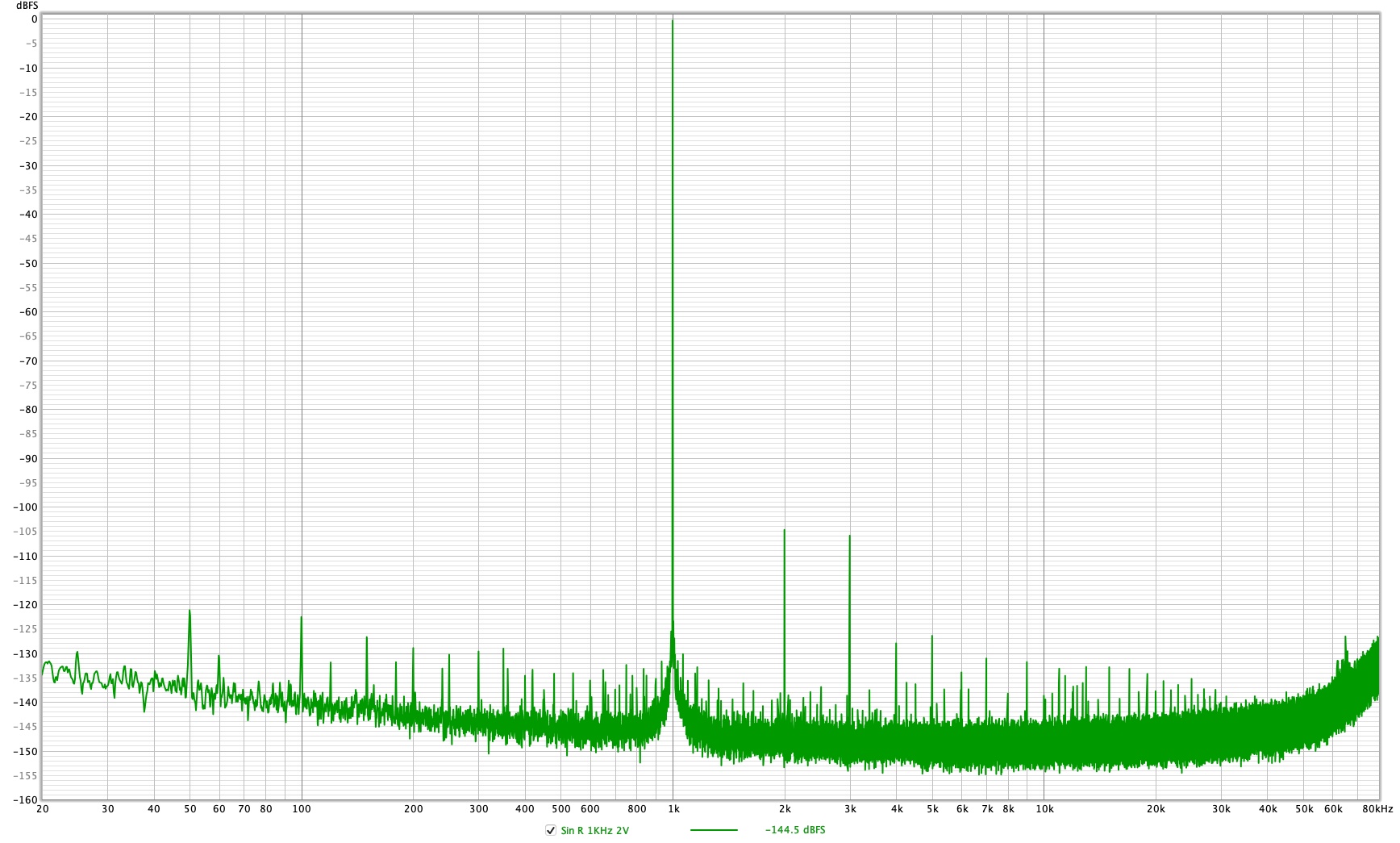 At 2Vrms output, THD+N is -100dB (20Hz-20KHz bandwidth) for a 1KHz tone, with a noise floor of -100.4dB; overall, good values for an A/V processor. However, harmonic distortion is high in the third harmonic (!); Higher harmonics are very low. The other peaks are present also without the input signal:
Noise (no input signal) L+R: 96KHz bandwidth, 1M samples, Volume -3dB

​
Without any input signal, the noise floor does not show alarming artefacts. Some (low) peaks are due to power supply (50Hz + harmonics); some at 60Hz and multiples (?); left channel has some additionals (still low) peaks around 12KHz, probably due to internal interference.
HARMONIC DISTORTION PER FREQUENCY
THD per frequency R: -1.8dBFS Tone sweep 10Hz-96KHz; 2Vrms output (-3dB)
THD is mainly due to the second harmonic, "flat" for all frequencies. But the third one (less "euphonic") increases with the frequency, overcoming just before 2KHz the second harmonic, contributing to increase the THD, in any case low.
INTERMODULATION
CCIF Test R: 96KHz bandwidth, 1M samples; Volume -3dB
SMPTE Test R: 96KHz bandwidth, 1M samples; Volume -3dB
Good both tests: IMD is -93.2dB for CCIF and -89.5dB for SMPTE (20Hz-20KHz band limited). Symmetrical peaks around high frequency signals are due to jitter.
Multitone 25Hz-20KHz 1/3 Oct. R: 96KHz bandwidth, 1M samples; Volume -3dB
From this graph we've about 18 bit of distortion free range (see next).
DAC LINEARITY
Relative Level of a tone @1KHz from 0dBFS to -130dBFS; Volume -3dB
It seems that conversion linearity is maintained at least up to 18bit; not very good for an audio DAC, but "normal" for a good A/V processor.
JITTER NOISE
J-Test: 48KHz sample rate, 0.5M samples; Volume -3dB
J-test reveals a modest amount of low frequency spurious jitter tones. However, they are likely not audible at these levels.
CONCLUSIONS
Based on above (not complete) measurements, I would say that the AVM60 behaviour is good, even if from a device of this class I would expect more. Considering that an A/V processor is used normally for home cinema, with a DSP elaborating heavily the audio signal for the room acoustic correction (ARC in this case, very effective), it fulfils well this need with all its features (not addressed here). As a stereo preamplifier used for music, as usual for all A/V, there is space for improvements.
Comments and suggestions are welcome.
Last edited: