Master Contributor
Forum Donor
Joined

Jan 23, 2020
Messages

6,289
Likes

5,996
Location
I'd like to offer you all an alternative EQ to the Oratory EQ, it's still done to the Harman Curve but it's using a different set of measurements. Oratory's measurement for the K702 has changed by a large amount over the various versions of pdf's he's released for it, and for my 4 units of K702 (at least) it's going in the wrong direction, with his measurements getting darker which in turn is resulting in his EQ's being brighter than the earlier versions.
Following is how his published measurement has changed from his first version compared to the latest version, the latest version is the dark highlighted line in the following graph, and you can see how much darker that measurement is in comparison:
Right, so Oratory measured one of my units of K702 (ages ago), and he sent me the measurements for that unit which was the same as his first published measurement (as I was the first person to send him a K702 to measure) - anyway I've measured that unit on my miniDSP EARS (ages ago) and was therefore able to create a conversion curve for turning a miniDSP EARs measurement into GRAS style measurement - that's valid a thing to do, but note that conversion curve is only applicable to that model of headphone (K702). I measured all 4 units of mine on my miniDSP EARS, averaged them & then converted into a GRAS style measurement, then did an EQ to the Harman Curve. I've tested the EQ on all 4 units of my K702 and it sounds good on all of them. The Oratory EQ is just too bright for my 4 units of headphone. In fact, my two newer K702 are brighter headphones than my two older K702, eventhough they've all got new pads on. With this in mind it's interesting that Oratory's measurement has become darker over the years, whereas my K702 units have shown that the newer ones are brighter than the older ones (so the opposite trend). So it's possible that the EQ I will show you will be more applicable for newer K702, it might be worth a try......but even on my older K702 I prefer my EQ. So that was my overall approach and overview, and following are the graphs/data to back it up.
My 4 units of K702 measured on miniDSP EARs (new pads)
You can probably just about make out in the following graph that the two newer K702 (Unit 3 & 4) are brighter than the older Unit 1 & 2.
and the same as above but showing the average line of all of them: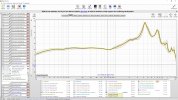 this average line was then converted to a GRAS style measurement and then EQ'd by me to the Harman Curve:
and the EqualiserAPO file for the EQ is attached at the end of this post. Note for those entering the EQ manually, you'll want a -9dB Negative Preamp.
Footnote: Units 1 & 2 have an aftermarket pad attached, which are made of same material as original pad and of same texture and appearance, I did measure to see what the difference was between aftermarket pad and stock pad (on the same unit) and they're practically identical or just a tad tad darker (if perceivable), see following graph: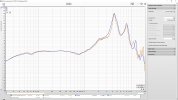 Anyway, you're welcome to try my EQ based on my measurements which were backed up by an original GRAS measurement, and for my 4 units they are an improvement over the Oratory EQ, and there's a possibility that this EQ is even more relevant for newer K702 units, but I even prefer this one on my older K702 units dating back to 2015.
I had posted this yesterday in a seperate AKG K702 thread, but perhaps it's better it has it's own thread. You're welcome to try it and let me know what you think to it, indeed it's possible this EQ might be more valid & suited to newer K702 that also have new pads as it's based on 4 units of mine that have been measured with new pads, and it does seem that the newer K702 are trending to be brighter headphones, at least for my 2 fairly recently purchased units. So from that point of view, some users may find this a better fit than the Oratory EQ, no guarantees of course, lol!
It'll be interesting to see how many people end up trying this EQ, as I don't know how popular the K702 is here on ASR. In the past it's been a very popular headphone.
Last edited: