A Visit to Genelec USA (Natick MA)
Having read about Genelec loudspeakers for some time, I tangentially came across a post in a Facebook group about room acoustics from the architectural firm (
https://www.fmdesign.com/
) that designed the Genelec Experience Center in Natick, MA, which was rebuilt during the COVID pandemic. Professional pictures and more information are available at
https://www.fmdesign.com/projects/genelec-immersive-experience-center-natick-massachusetts/
and
https://www.genelec.com/-/news/genelec-commissions-new-experience-center-at-u.s.-headquarters
. I work nearby so I took the opportunity to reach out to Paul Stewart and Will Eggleston to inquire about the possibility of a visit. They were kindly receptive to my stopping by and spending almost two hours to get a sense of the Genelec Experience.
Here are Will and Paul:
The Genelec US headquarters in Natick is actually located in the former Allison Acoustics site, a relatively unassuming-looking office building:
Here are a few amateur photos of the Experience Center:
What may not be clear from the pictures is the depth of boundary absorption in places like the ceiling (2+ ft?) and rear (that's absorption all the way back) of the room: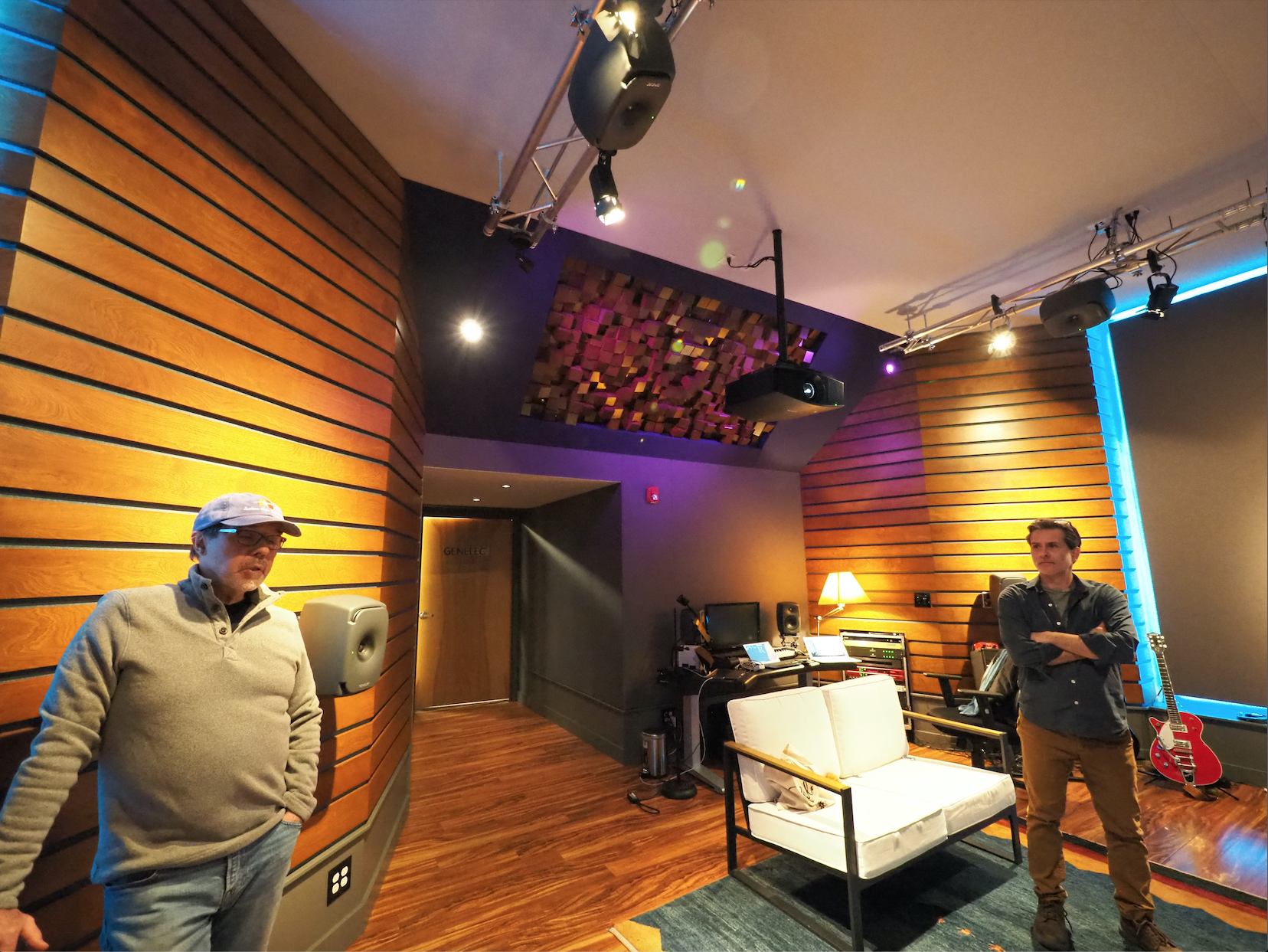 As you can see. they added a W371A for the center 8351B, while the pair of 8331As remained in place at the sides of the mixing desk. I was able to listen to a variety of tracks (including a lot of classic rock like Rush, Toto, and Queen, as well as the Giles Martin remasters of the Beatles, but also including tracks from Beyonce and Billie Eilish, as well as Hans Zimmer live performances, plus some cinematic material like The Fifth Element and Mad Max: Fury Road) spanning the gamut from stereo to 5.1 to Atmos, including opportunities to turn off individual or groups of channels to get a better sense of their contributions to the overall listening experience, especially LFE only vs W371A only vs both. I had brought along some CDs, but these were too obsolete to play there.
I hadn't actually experienced an Atmos setup before, so it was a treat to hear the immersive aspect with the overhead speakers, which could be switched in and out. I even made the classic newbie mistake of asking to have the center channel turned off, when it wasn't even playing, since the central image was so solid even in stereo. Will also showed the GLM measurements, demonstrating the flattest (no downward tilt above the modal region) frequency response from top to bottom that I've ever heard. I wasn't able to compare with my auditory memory of recordings that I know best, but I'll skip any flowery prose and simply say that the imaging, detail, and totally clean bass were exceptional in my experience.
Paul and Will discussed some of the history of Genelec and its drivers, design goals of and technology behind the Ones series and the W371A (a smaller version does not seem likely, sorry), and details of the Experience Center construction itself, including future-proofing each channel with power, audio, AES digital, and Ethernet connections.
Here are two different generations of coaxial drivers:
I didn't do a good job of capturing the difference in depth, but the newer coaxial driver (this particular one was damaged but available for demonstration purposes) was much thinner, allowing for a shallower depth of mounting, like in the Ones (though different drivers between the 8351B/8361A and 8331A/8341A model siblings).
Will and Paul were truly gracious hosts for an eye-opening experience. Certainly when it comes to a pair of 8351B/W371As, "if you have the means, I highly recommend picking one up."
Young-Ho