Audio Science Review (ASR) Forum

I went looking for the original text of this often talked about article by Tom Nousaine but could not find it. Eventually found an optical scan with fair number of errors. I fixed most of them and thought I post it here for future reference before any trace of it disappears from the Internet.
There is a lot of wisdom in the article that is as current today as it was in 1997 when he wrote this for Stereo Review. Rest in peace Tom.
​
Can You Trust Your Ears?
Perhaps — if you use your head, too by tom nousaine
"Relax, listen carefully over the long term, and, above all,
trust your ears." So goes the most often repeated advice
from friends, reviewers, and salespeople about the right
way to evaluate sound quality. An often quoted corollary is
that you may have to "learn" to hear certain differences by
listening over extended periods. It all sounds so logical,
too. We use our ears constantly, and they serve us well —
at least they saved our...

OK, with my wife out on a trip, I have some time to catch up on my review chores. In this wonderful episode, you are treated to the measurements of the Schiit Modi 2. This guy retails for $99 which fit the budget nicely.

It uses the Analog Devices AD 5547 DAC silicon. This is an older DAC (circa 2012) and quite pricey at some $20. The say it is the same chip used as in their Bifrost DAC.

EDIT: that was a mistake. The DAC chip uses is from AKM: AK4490EQ. See later posts.

Some of you may recall me having a poor experience with one of their $400 DACs a few years ago showing one of the worst correlated jitter measurements I have ever made. And my son could readily hear his computer activity through that DAC. Performance that lives to their name nicely.

So it was with some ambivalent that I entered this test. Would this be a repeat of that incident or decent performance? Well, you decide.

Before we get into the measurements, let me say that...
Here is a good video that goes over the role of the "Mastering Engineer," in this case, Mandy Parnell:



Quite fascinating that she almost always works in analog domain. Digital files are played, EQ, Level, etc. is applied in analog domain and content re-digitized! So a generational loss is introduced.

Can somewhat see why though. Digital manipulation requires careful attention to headroom because you can easily increase levels and cause clipping. In analog, this is not nearly as much of a problem and at any rate, the results can be heard immediately.

And then there is the convenience of having lots of knobs to change with tactile feedback than mouse clicks.

Definitely worth a watch.
Hi all,

Very interesting video showing how our hearing works:



This one is about hearing loss. I never knew the reason why high frequencies are the first to go.



On April 1, we had the pleasure of visiting
Jason Victor Serinus,
the contributing editor and show/equipment reviewer for Stereophile magazine. As expected, interest was high and some twenty people signed up to be there.
Jason's nice home is near Puget Sound and Pacific Ocean north of where we live. It was a 140-mile roundtrip for me and was worth every minute of driving up there.
Jason has a very warm personality and was super inviting despite such a large group descending on his home. Better yet, he has three cute dogs that provided no end of companionship as we took turns in groups of ten to visit. I wish I remembered their names but old age has gotten to me and I do not. Here is a picture of the cuties though:
I know, I know, you didn't come here to read about dogs and people. You wanted to know about the visit and audio experience. Here is a shot of Jason's living room system which we did not listen to:
The listening room is a...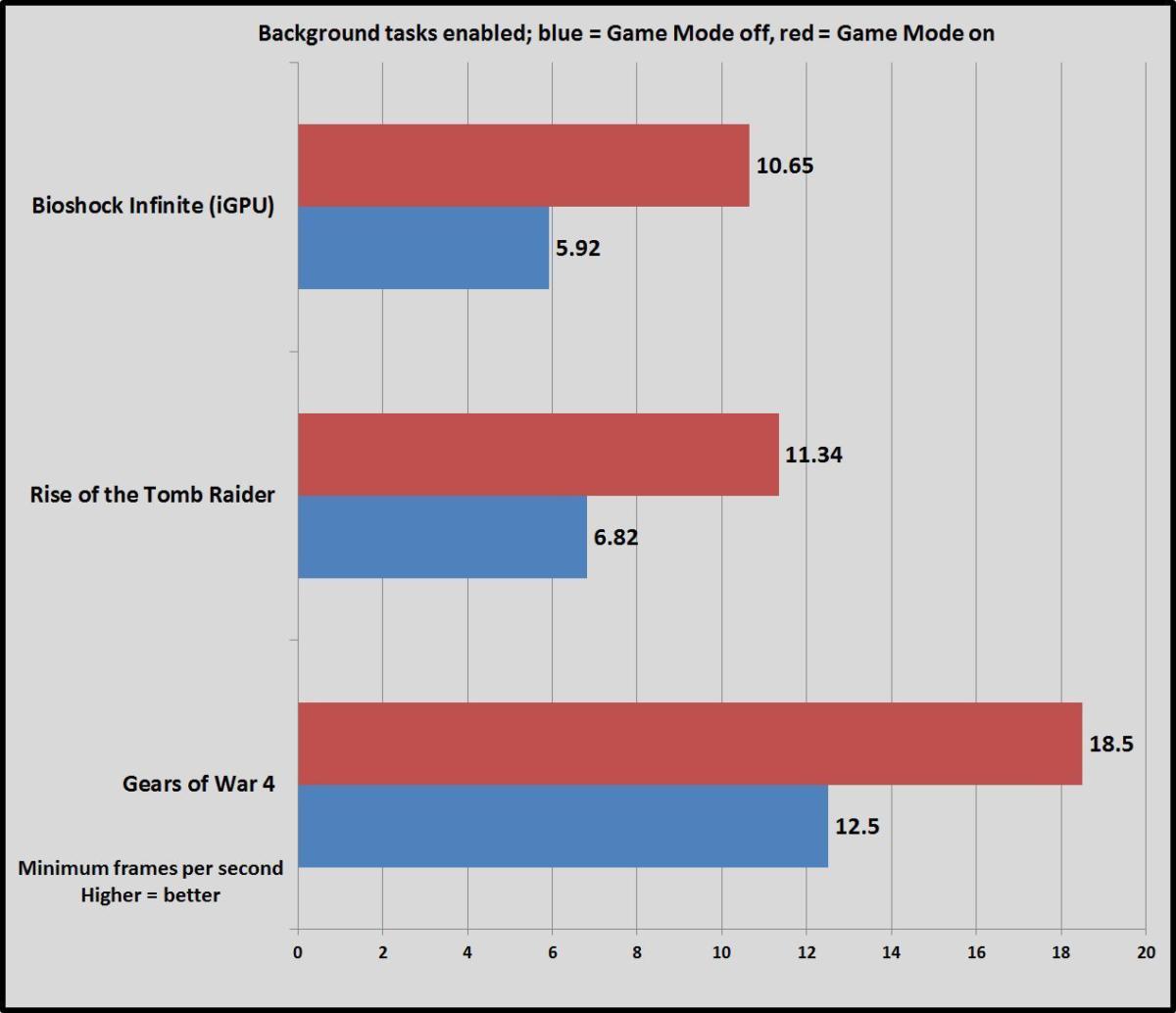 Optimizing windows for less background traffic seems to be the "thing" to do by many digital audio tweakers. I have never been a fan of such optimizations because they disable so much stuff that make Windows hard to use. And at any rate, you are then beholding by someone's tweaks to Windows.

There may be a lot better solution now in the form of "Game Mode" in Windows 10 update (Creator's Update). You start your game, then hit Windows key + G to bring up the settings and select Use Game Mode for this game. This causes Windows to reduce priority for background tasks and allocate more resources to the current app which in this case is a game. The same should work just fine for your favorite media player. I will test this in the future but for now, it may be a good thing to do to keep streaming of audio (e.g. Tidal) and video (Netflix and such) run more consistently.

See this article on it:...
Signal processing methods can be complex to understand leading to misconceptions. None is more victim of that than upsampling or interpolation. I am sure you have heard of people saying they play their HD content on 4K display and it looks "almost 4K." Same with audio. There is this notion that upsampling content to higher sample rate will result in more resolution. Alas, both of these are completely false.

Nothing in the process of interpolation creates more information/detail. Nothing. The algorithms (methods) used have no intelligence whatsoever as to try to guess what is supposed to be there. Instead they rely on methods that generate more pixels (image/video) or PCM samples (audio).

The definition of an ideal interpolator or resampler is one that creates these new samples but generates no new distortion. That's right. The only thing an interpolator can do is to reduce fidelity, not increase it!

If I asked you what the number is between 1 and 3...

Here is a little comparison of three different ways to convert USB to S/PDIF all driving an ultra low cost, $20 FiiO Taishan DAC. It is the only DAC on my workbench that takes S/PDIF input as the rest are all USB and I am too lazy to measure my main system

.
A simple test tone at roughly 11Khz is output from the PC using Foobar2000. I had to use the Directshow filter as SIGNSTEK would not work otherwise. So all three are going through the kernel audio stack. Windows audio output format was selected to be 16-bit/44.1 Khz.
The first device measured is my Audiophilleo USB to S/PDIF converter/bridge. I bought this from Phil back in 2010/2011 when he had first started the company. It retailed for $500 which at the time was a very reasonable price since async USB was a rare bird.
The test tone is the near 0 db line on the left. In an ideal situation there would be nothing else after that. But this is not ideal and we have harmonics of that tone going up way high in...
I posted this picture over on WBF in the middle of a long semi-fruitful discussion on the benefits and drawbacks of differential operation. Ken Newton suggested sticking with the accepted technical definitions and distinction among differential vs. single-ended and balanced vs. unbalanced that I do think is appropriate even though I did not follow it here (I called the unbalanced interconnection single-ended, which it is, but may not be as clear to some).
Anyway, HTH - Don
p.s. I was going to post in the "Reference" subforum but only King Amir has that power...

p.p.s. How do I edit the title? I left one period off my ellipsis...

Working through my backlog of stuff to test, I finally got to do some preliminary testing of two budget DACs:
1.
FiiO Taishan
https://www.amazon.com/D03K-Digital-Analog-Audio-Converter/dp/B009346RSS
2.
SIGNSTEK Mini USB DAC
https://smile.amazon.com/dp/B00FEDH...00-other-smile-us000-pcomp-feature-scomp-wm-4
My reference for comparison was the iFi iDAC2 which retails for $349 or 17 times more money.
FiiO does not have USB input. To feed it audio I used the Coax output of iFi iDAC2. SIGNSTEK does have USB input so I used that as a complete system. It also has Coax input but I could not get it to work. Nor could I find a manual for it.
I have not bothered to measure frequency response. Instead I focused on just running a couple of high frequency tones through them. One was a 14 Khz tone at 48 Khz and the other was 11.05 Khz at 44.1 Khz.
All measurements are performed using my Audio...